Final Fantasy XV will be released in three editions on September 30
Square Enix's epic Final Fantasy XV "Uncovered" event took place a few hours ago, and we've got a lot of ground to cover, so let's get right to it…
The big news is that Final Fantasy XV will be released for the PS4 and Xbox One on September 30. The RPG, which has been in development in one form or another for over a decade, will be released in three separate editions.
The "Day One Edition" will retail for $59.99 and include a bonus downloadable weapon, the Masamune. Players who pre-order the game on the PS4 will also receive a Dynamic Theme, while Xbox One owners can obtain new Avatar items (a Noctis Special Outfit and a Carbuncle Pet).
The "Deluxe Edition" will retail for $89.99 and come packaged in an exclusive Steelbook case. In addition to all of the "Day One" bonus content, it'll also include a Blu-ray copy of the Kingsglaive: Final Fantasy XV film, and two in-game bonus items (a Platinum Leviathan Regalia design for your car and the Royal Raiment costume).
Finally, the "Ultimate Collector's Edition" will be available exclusively through the Square Enix Online Store. Priced at $269.99, it'll include everything from the "Deluxe Edition" plus a Play Arts Kai action figure of Noctis, a Blu-ray copy of the Brotherhood Final Fantasy XV anime series, a hardcover art book, a soundtrack CD, and four in-game item packs. The "Ultimate Collector's Edition" will be limited to a print run of 30,000 copies, and you can get a closer look at it after the break.
But first, take a look at the brand new trailer for the game, which is titled "Reclaim Your Throne," and includes a cover of "Stand By Me" by Florence + The Machine.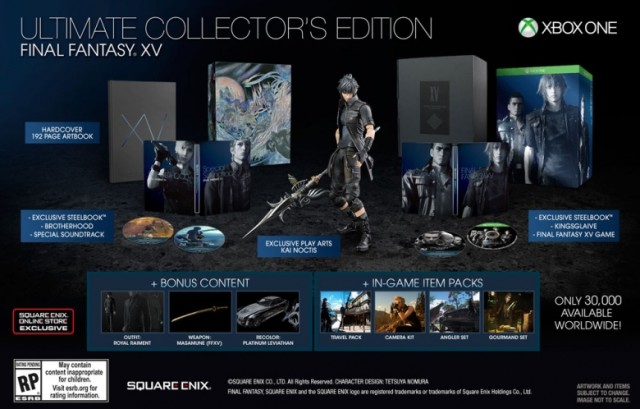 It's Dangerous To Go Alone! Read This.
A Commenter Is You!