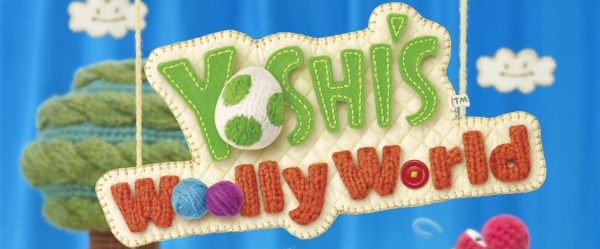 Despite those open-world sandbox games that eat up half the hours in a day being all the rage, Nintendo has continued to enjoy immense success with its traditional 2D platformers. They still excel at this genre, even more than 30 years after Super Mario Bros was released on the NES. Yoshi's Woolly World is a semi-sequel to 1997's SNES hit Super Mario World 2: Yoshi's Island and the N64's Yoshi's Story, but does it capture the magic of these past games, or does it simply unravel?
Platforms: Wii U
Publisher: Nintendo
Developer: Good-Feel
Genre: Woolly Platformer
Release Date: October 16, 2015
ESRB Rating: Everyone
Nintendo has handed its trusted dinosaur mascot over to Good-Feel, the developer that brought us the 2010 title Kirby's Epic Yarn, though why the two companies dropped the wonderfully alliterative "Yarn Yoshi" working title is beyond me. Once again, a Nintendo character has been displaced into a world made up of wool and cloth. So is it just a re-thread?
Thankfully, the answer is no. The bright-knit patterns and cut-out cloth characters allow the game developers to come up with new and interesting twists on the classic Yoshi platformer. Just as Yoshi previously threw eggs at enemies, here he must throw balls of yarn. However, they are not just used to entangle bad guys, but also to solve puzzles. Outlines of objects can be made real by adding wool to the mix, and walls can be unravelled if there is a loose thread for Yoshi's tongue to snatch. Other walls can even be folded over, revealing hidden items or woolly pipes to traverse.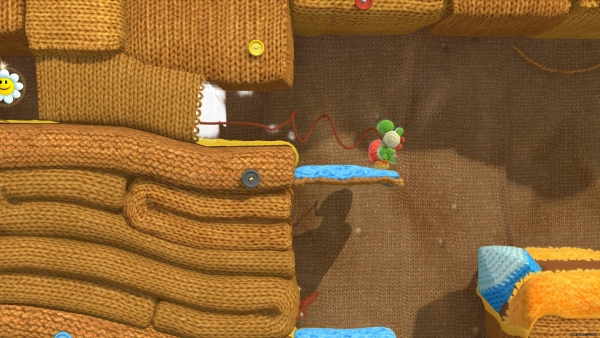 The subtle surprises and manner in which the wool is utilised helps keep the game feeling fresh as players progress through the six worlds, each split into eight levels. The themes of these worlds will be very familiar to Mario fans – grass, desert, sky, forest, snow, and lava. However, the fresh lick of yarn cannot cover up some of the game's most fatal flaws. Some levels come very close to feeling like carbon copies of previous Yoshi games, while the boss fights are downright dull and repetitive.
In each level, there are four different types of collectibles that must be found to fully mark it as complete. The Smiley Flowers make a return, with five scattered around the level. There are also five Wonder Wools to collect, which will unlock a new Yoshi design, usually based on that level. For example, the Yoshi unlocked in level 1-5 is Moo-Moo Yoshi, based on the cows featured there. If players complete all eight levels in a world, they unlocks a special Yoshi, which I won't spoil here. To fully complete a level, players must also find 20 jewelry beads that contain Miiverse stamps in them, and finish the level with full health.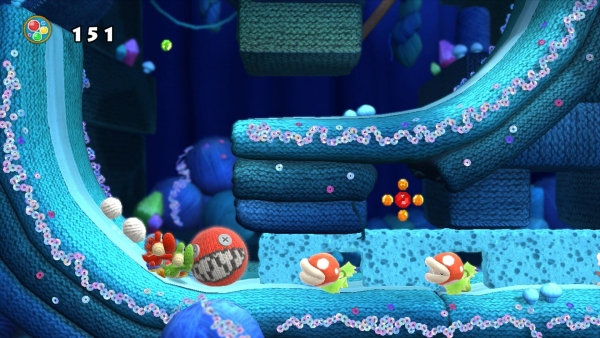 Recent platformers, especially from the indie community, have been ultra-challenging to the point of frustration. With the launch of Super Mario Maker and its often ridiculously hard user-created levels, it is refreshing to play a platformer that is simply fun. That is not to say that Yoshi's Woolly World is a walk in the park; it is challenging in the right measure, especially for those who wish to collect every item.
For the most part, the smart game design matches the impressive woolly aesthetics, which will captivate and charm even the most hardboiled gamer. However, more variety in the boss fights would have elevated this to a much grander adventure. And now that Good-Feel has tackled two Nintendo characters, how long can it be before they get to make Mario's moustache from another material? Paper Mache Mario anyone? I look forward to it.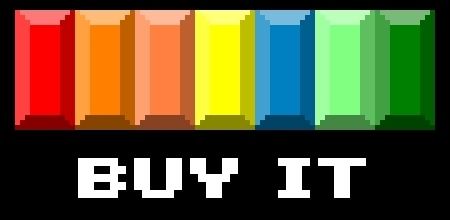 Review Disclosure: A retail copy of Yoshi's Woolly World was purchased by Warp Zoned for the purposes of this review.