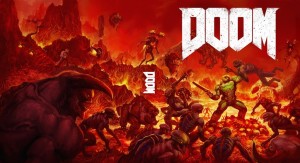 After a successful Closed Beta, Bethesda and id Software are ready to open up Doom to a wider audience. Beginning Friday, April 15, an Open Beta for the shooter sequel will be available for everyone who owns a PC, PS4, or Xbox One. Players will get three days to test out the Open Beta, which will include two maps ("Heatwave" and "Infernal") and two game modes (Team Deathmatch and Warpath).
Bethesda also announced their plan for Doom's post-launch downloadable content. In addition to bonus content for the SnapMap creation tool and additional multiplayer modes, the publisher will release three multiplayer map packs for Doom. The three packs will be priced at $14.99 apiece, and the first will launch this Summer. According to Bethesda, each pack will include a number of new maps, Hack Modules, playable demons, weapons and more, but if you want more specifics, the first pack will include three new maps, a new weapon, a new playable demon, a new armor set, a new piece of equipment, new Hack Modules and Taunts, and new customization colors and Patterns. A Season Pass, which includes access to all three packs, will also be available for $39.99.
Doom will be released for the PC, PS4, and Xbox One on May 13. And definitely be sure to check out the Open Beta, we absolutely loved this past weekend's Closed Beta.