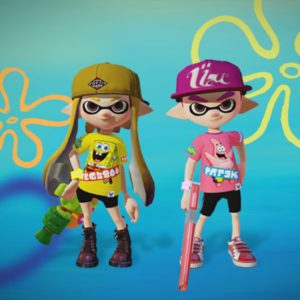 Brace yourselves… the SpongeBob Splatfest is coming.
Nintendo is teaming up with Nickelodeon to decide, once and for all, who is the greatest resident of Bikini Bottom. Players in the US and Europe will be able to visit Splatoon's Inkopolis Plaza today to register their choice for SpongeBob SquarePants or his starfish pal, Patrick… even though everyone knows the best character on that show is the squirrel in the spacesuit (Google tells me her name is Sandy).
This jumbo-sized Splatfest begins on Saturday, April 23, at 9:00 AM (Eastern Time), and will be the first time that North American and European players can be matched together. Participating Inklings (but not Squidward) will be able to splat it out in Turf War for 30 hours and the Splatfest will end on Sunday, April 24, at 3:00 PM.
Now, someone get that freakin' theme song out of my head.