When your resume includes critically-acclaimed classics like BioShock and Dead Space, it's hard for a fledgling studio's debut title to stand on its own. Unfortunately, those are the high standards The Deep End Games, a studio that counts developers from both Irrational Games and Visceral Games, is being held to. Thankfully, their first offering, Perception, has a unique visual design and an irresistible narrative hook to pull potential players in.
Platforms: PC
Publisher: The Deep End Games
Developer: The Deep End Games
Genre: First-Person Horror… WHILE BLIND
Release Date: TBA 2016
ESRB Rating: Rating Pending

Perception is a narrative-heavy first-person exploration game that is held together by Cassie, the young blind woman at the center of the story. I recently got the chance to play an early section of the game, which opens with our protagonist travelling to a distant mansion in search of the demons that haunt her dreams. Fiercely independent, and with a sarcastic streak to match, Cassie has come alone, but not unprepared. She is able to "see" by tapping her cane on the ground, and can examine objects she finds through an app on her phone.
Because Cassie cannot just turn off her disability, it's at the center of everything she does in Perception. The mansion is shrouded in darkness, but tapping her cane on the ground bathes the surrounding area in an eerie bluish-green glow. Known as echolocation, this skill allows Cassie to "see" the world around her in a rudimentary way. Using sound this way also gives shape to other objects in the world for Cassie. A crackling fire will illuminate a glass of wine in front of the fireplace, while the whipping winds light up the outside like high noon in Death Valley.
Upon entering the mansion, Cassie's visions and dreams connect her to a pregnant woman and her therapist husband who previously lived at the residence. Firsthand accounts from both characters, in the form of audio journals, help paint a clearer picture of their life together and possibly shine a light on the good doctor's murderous inclinations. Cassie herself also likes to narrate the action as she walks around the mansion, and while most game characters can be described as snarky, I liked what she had to say about her situation.
Players are also able to explore the backstory to the mansion's mystery by examining objects she finds along the way. Some produce aural visions linking back to a memory contained within the object. But others, like a pill bottle that has to be moved from one room to another, are required to propel the story forward. Right now, it's almost impossible to tell the difference between the two types of objects, making it difficult to push forward at times.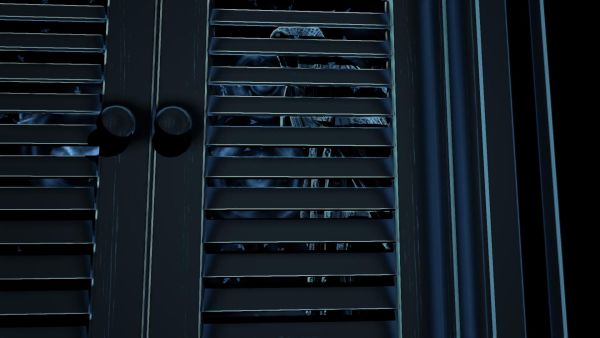 Cassie's quest is doubly hindered at times by Perception's minimalist presentation. The character's blindness drains most of the color out of the world, along with the finer details of the mansion's fixtures and furniture. So it's very easy to get disoriented and lose your way. While this is great for the immersive atmosphere that Deep End is clearly going for, it kills any forward momentum the game manages to build up.
However, the mansion is also haunted by a monstrous spirit known as "The Presence." And occasionally, he'll materialize to roam the halls and cause havoc. Thankfully, Cassie can sense his impending arrival, and is able to dash towards a hiding spot. I think this game of cat-and-mouse will play a larger role in Perception's future chapters, and it certainly added a bit of spice to the demo.
This story of the doctor and his wife is just the beginning of Perception's larger story, which will ultimately take Cassie on a journey through the past, and a meeting with many of the mansion's former occupants. "You're a blind woman and you see through echolocation" is a great hook to pull players in, and combined with the effectively creepy atmosphere, it's more than enough reason to overlook some of the game's current flaws. And if nothing else, I'd really like to learn more about the mysterious glowing tree I encountered several times in the demo.
The Deep End Games isn't ready to say exactly when Perception will be available, but their hope is to release it for the PC by the end of the year.