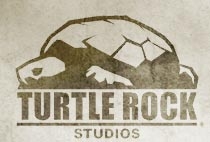 Turtle Rock Studios is moving on from Evolve. The 4v1 shooter definitely has its fans, but the developer has announced their next project will be an original property unconnected to Evolve or Left 4 Dead (which is owned by Valve, anyway). While the big details of the game are being kept under wraps for now, Turtle Rock divulged a few small tidbits of information about the title through several job listings on their Careers page.
First, and most important, we know it's in development for the PC, PS4, and Xbox One. And according to a job description for a Narrative Director, it'll be heavily "narrative-driven":
We are searching for a Narrative Director to help shape the entire narrative structure of our upcoming new AAA game for PC, Xbox One, and PlayStation 4. The Narrative Director will work closely with our Creative Director and Head Writer to create and oversee compelling stories, characters, and content that form the backbone of the game's story.
And thanks to the listing for an Animation Programmer, we know that it'll also include "unique and stunning characters":
We are searching for an exceptional programmer to help us in developing unique and stunning characters for an unannounced, cutting edge game targeting next generation hardware. Join us and be a part of an incredible studio and project!
So let's recap… Turtle Rock's next game isn't going to be Evolve 2, but it will feature characters and a story. Yup, that's what we know so far.