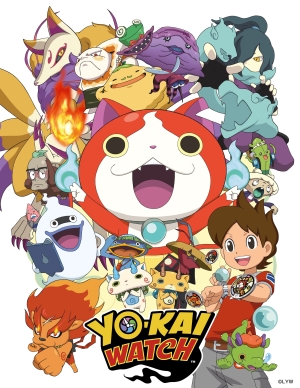 The Yo-Kai are getting ready for their second American invasion, because the mischievous spirits at the center of Level-5's Yo-Kai Watch series will make an encore appearance on the 3DS this Fall in Yo-Kai Watch 2. Set to launch on September 30, Yo-Kai Watch 2 will be available in two versions (Bony Spirits and Fleshy Souls) and add more than 100 new Yo-Kai to the game's universe:
Already a huge hit in Japan, the sequel to the first smash hit, which is once again developed by Level-5, offers the same deep RPG gameplay and wacky adventures as the first game. The new adventure also offers many new areas to explore outside of Springdale, more than 100 new Yo-kai, a new-and-improved in-game Yo-Kai Watch and even the ability to travel back in time! Yo-Kai Watch 2 will also launch with two versions, Yo-Kai Watch 2: Bony Spirits and Yo-Kai Watch 2: Fleshy Souls, each featuring rare Yo-Kai that can only be found in their respective games.
Fans of the Yo-Kai Watch television series also have reason to be excited this morning, as Disney announced the second season will begin airing on Disney XD this Summer. And in case you missed it, you can catch up with the first season on Netflix.