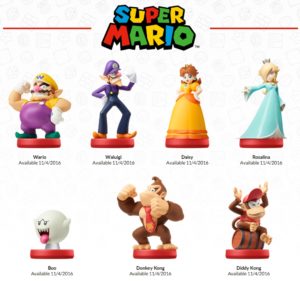 While Nintendo has put the majority of their E3 attention on The Legend of Zelda: Breath of the Wild, the consolemaker also unveiled a new wave of Amiibo figures that'll be added to the "Super Mario" line on November 4.
While most of the figures are new designs for familiar characters (Donkey Kong, Diddy Kong, Wario, and Roaslina), a few are receiving the Amiibo treatment for the first time (Waluigi, Daisy, and Boo). These seven figures aren't tied to a specific game, but they'll be compatible with a wide range of Wii U and 3DS titles such as Mario Party 10 and Super Smash Bros. For 3DS/Wii U.
Nintendo will presumably add the figures to their Amiibo Compatibility Chart very soon.
UPDATE: The seven figures will also be compatible with Mario Party: Star Rush, which will be released for the 3DS on November 4.