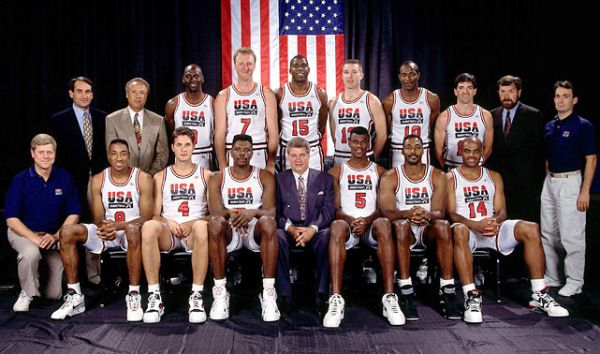 2K Games wants fans to go for the gold this Fall as they've announced plans to add the 2016 USA Basketball Men's National Team that'll compete in this Summer's Olympics and the 1992 "Dream Team" to NBA 2K17:
Comprised of NBA Hall of Famers, including Michael Jordan, Larry Bird, Magic Johnson, Clyde Drexler, Karl Malone and David Robinson, the 1992 "Dream Team" is universally considered one of, if not the greatest, team ever assembled in basketball history. Fans will be able to pit that roster against this year's athletes on the USAB Men's National Team, which includes NBA 2K17 cover athlete Paul George and Team 2K athletes Kevin Durant, Draymond Green, Jimmy Butler, and Kyrie Irving.
The 2016 USA Basketball Men's National Team will be included in the main game and available to everyone who purchases NBA 2K17, but the 1992 "Dream Team" will only be available as bonus content for fans who pre-order.
2K Games also confirmed that Mike Krzyzewski, Coach K to friends and fans, will appear on the sidelines coaching the 2016 USA Basketball Men's National Team. Krzyzewski stepped into a motion capture booth for his NBA 2K debut and he'll also appear in a revamped Tutorial Mode that focuses on "teaching fundamental basketball strategies including pick and roll execution, proper defensive positioning, ball movement, boxing out, court awareness, and more."
NBA 2K17 will be released for the PC, PS3, PS4, Xbox 360, and Xbox One on September 20. However, everyone who pre-orders will receive access to a special "Tip-Off Edition" that'll be released on September 16.