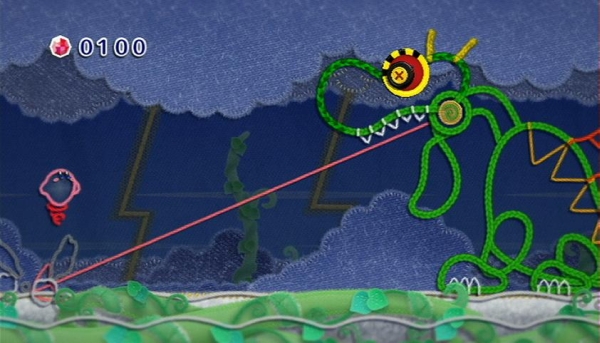 Kirby is sucking up the entire Nintendo eShop this week with the launch of three classic Kirby games and a free demo for Kirby: Planet Robobot.
Let's start on the Wii U, where Kirby's Epic Yarn is now available to download. Kirby's Epic Yarn was originally released for the Wii in 2010 and was Nintendo's first attempt at creating a game entirely out of yarn and cloth. Wii U owners will also have the chance to download Kirby: Mass Attack this week, which was originally released for the DS in 2010. In Mass Attack, players will gather together a mob of Kirbys to solve the game's many puzzles.
Over on the 3DS, Kirby fans will travel even further back in time if they download Kirby's Dream Course this week. Originally released for the Super NES all the way back in 1995, Kirby's Dream Course is the closest thing we'll probably ever get to a Kirby golf game.
More information on all of these games (and a few other non-Kirby new releases) can be found after the break.
Wii U eShop

Kirby's Epic Yarn – When Kirby incurs the anger of a sorcerer, he is transported to a world made completely of cloth and yarn. In this Wii classic, guide Kirby through uniquely crafted levels in Patch Land as he takes on a variety of forms and transforming into powerful vehicles. A second player can also aid in the adventure by playing as the adorably named Prince Fluff.

Kirby: Mass Attack – Gather a mob of Kirby characters and then lead them through this crazy Nintendo DS adventure in which nothing can stand in your way. Send Kirbys swarming over enemies, fling them into the air to hit flying floes and even use them to take on challenges of strength. Don't forget to collect medals hidden throughout various stages to unlock mini-games.

3Souls – Discover the world of Mustland with Nelesa in the sad cells of Moon Prison with this first episode of 3Souls. In this 2D puzzle-platformer, players must utilise the unique features of the Wii U GamePad to solve puzzles and the touch screen to glimpse into the thoughts and feelings residing within Nelesa's soul.

Bloc – Control up to four Blocs at the same time to prevent the star or ball from going offscreen! Features multiplayer for up to four players: each player shares the Wii U GamePad to control Blocs on each side of the screen. Play with bumpers in one of four stages!

Dracula's Legacy – Find clever clues and solve mysteries. Solve fantastic puzzles. Haunted by frightening dreams about her forgotten past, Isabella – along with her fiancé – travels to an old ghost town, the only clue to her origins that she has been able to dredge from the depths of her lost memories.

Vektor Wars – Welcome to an 80's neon future inspired first-person cyber shooter. The year is 2024 and you are Commander James Moses, a Space Ranger. Your mission: destroy the robot death army, rescue the Robodudes and save the world!

3DS eShop

Kirby's Dream Course – Get ready for one of the most surprising Kirby games imaginable! In this fun Super NES golf game – yes, it's a Kirby golf game – control the force and angle of your shot and sink Kirby for a hole-in-one. Play through various stages and acquire classic power-ups to get the lowest score possible. (In this game, a low score is a GOOD thing).

Gotta Protectors – An awesome 8-bit spin on tower defense straight from Japan! Team up with friends and mow down hordes of foes! The bad guys are after Princess Lola. You gotta protect her! Choose from a diverse and memorable cast of six classes, each with unique weapons and customizable, upgradeable skills. Strategically place barricades and turrets, hire hirelings, move Lola (the source of your power) around the map, and get ready to hack, slash, and magically mash wave after wave of enemies.