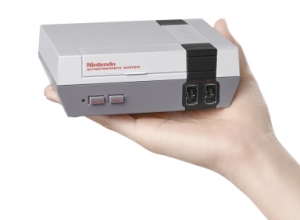 The NES is back… in microconsole form!
Nintendo has announced they'll release the Nintendo Entertainment System: NES Classic Edition just in time for the holidays on November 11. The system will be HDTV-compatible and include an NES Classic Controller and a built-in hard drive packed with 30 NES games.
Sadly, NES Classic Edition owners won't be able to add additional games to the microconsole (or relive the joys of blowing into cartridges to get them to work), but they will be able to play these NES-era favorites:
Balloon Fight
Bubble Bobble
Castlevania
Castlevania II: Simon's Quest
Donkey Kong
Donkey Kong Jr.
Double Dragon II: The Revenge
Dr. Mario
Excitebike
Final Fantasy
Galaga
Ghosts N Goblins
Gradius
Ice Climber
Kid Icarus

Kirby's Adventure
Mario Bros.
Mega Man 2
Metroid
Ninja Gaiden
Pac-Man
Punch-Out!! Featuring Mr. Dream
StarTropics
Super C
Super Mario Bros.
Super Mario Bros. 2
Super Mario Bros. 3
Tecmo Bowl
The Legend of Zelda
Zelda II: The Adventure of Link
It's a great selection of games, though I'm a little shocked that other NES gems like Tetris, Dragon Warrior III, Mega Man 3, and Tecmo Super Bowl (minus the NFL licensing, of course) weren't included.
Rather than forcing players to futz around with passwords or the dreaded "Hold Reset While Turning Off," the NES Classic Edition will also include multiple suspend points for each game.
The NES Classic Edition will be priced at $59.99, and extra NES Classic Controllers will be sold for $9.99 apiece. If you're a fan of Nintendo's Virtual Console, an NES Classic Controller can be paired with a Wii Remote for use with the Wii or Wii U. Likewise, a Wii Classic Controller can be plugged into the NES Classic Edition for two-player action.