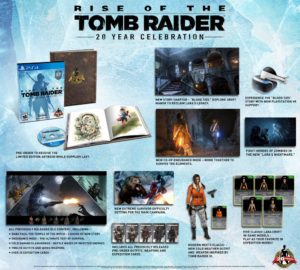 Square Enix has been celebrating the 20th anniversary of Tomb Raider all year long, and it all culminates this October with the release of the Rise of the Tomb Raider: 20 Year Celebration Edition for the PC, PS4, and Xbox One.
The 20 Year Celebration Edition will mark Rise of the Tomb Raider's PS4 debut after last year's PC/Xbox One exclusivity period, and it'll give players a chance to dive into the sequel, along with all previously-released downloadable content, and a huge amount of new content. The 20 Year Celebration content starts with Blood Ties, a new Story chapter that allows players to explore Croft Manor, and Lara's Nightmare, which pits the adventurer against a zombie invasion of her home. PlayStation VR owners will even get the chance to explore Croft Manor in a special first-person view.
In addition to new locales, players will be able to re-explore the main game in new ways, including an "Extreme Survivor" difficulty setting and a Co-Op Endurance Mode. "Extreme Survivor" will remove all Checkpoints from the game, while the Co-Op Endurance Mode gives two players the chance to raid tombs and survive the brutal wilderness together. Square Enix will also add five new in-game models to the 20 Year Celebration Edition for Lara based on some of her classic looks from the last two decades. Finally, players who pre-order Rise of the Tomb Raider's 20 Year Celebration Edition will also receive a Limited Edition containing an exclusive Art Book.
But don't worry, if you previously purchased Rise of the Tomb Raider for the PC or Xbox One, all of the 20 Year Celebration content (minus PlayStation VR support, obviously) will be available to download separately. And those who purchased the Season Pass on either platform will get everything for free.