With a Story Mode that features 360 levels, three marathon variants under an Arcade menu, and a whole slew of multiplayer options, Tumblestone contains a massive amount of content compared to the average puzzle game. And the only ones that come close are going to be found exclusively on mobile devices, which is an altogether different experience. For the most part, large-scale puzzle games abandoned the consoles years ago.
But Tumblestone might change all that.
Platforms: PC (Version Played), PS3, PS4, Vita, Wii U, Xbox One
Publisher: The Quantum Astrophysicists Guild
Developer: The Quantum Astrophysicists Guild
Genre: Match-3 Multiplayer Puzzler
Release Date: July 12, 2016 (PC), July 16, 2016 (Xbox One), July 2016 (PS3, PS4, Vita)
ESRB Rating: Everyone
Developed by the Quantum Astrophysicists Guild, Tumblestone's closest cousin in the puzzle genre is probably Bust-A-Move, a Bubble Bobble spinoff that rose to fame in the 90s. Like Bust-A-Move, Tumblestone players will run back and forth along the bottom of the well while rows of blocks loom above. But instead of connecting three similarly-colored circles, Tumblestone players will attempt to clear the board by shooting three matching blocks in a row.
However, things get complicated when Modifiers are added to the board. Something as simple as a "Shot Blocker" stone can change your entire strategy of how to complete the board. That's because if you make one mistake, the board resets itself and you have to start all over again. So Tumblestone is a game where speed is important (especially in multiplayer), but finding the correct solution to each puzzle without making a mistake is absolutely necessary. For this reason, it's frantic at the best of times, but it's also a puzzle game that constantly tests your gray matter.
Tumblestone is built around its multiplayer options, and the game's Puzzle Race, Battle, and Tug of War modes offer local and online multiplayer for up to four players. The game also includes bots that offer a real challenge for when you don't have extra people around. The constant back-and-forth as players work through the puzzle brings back all the best memories from the Tetris and Puzzle Fighter competitions of my youth. And with the right group of people, a Tumblestone contest can get just as rowdy as "Modern Military Shooter Game #2016."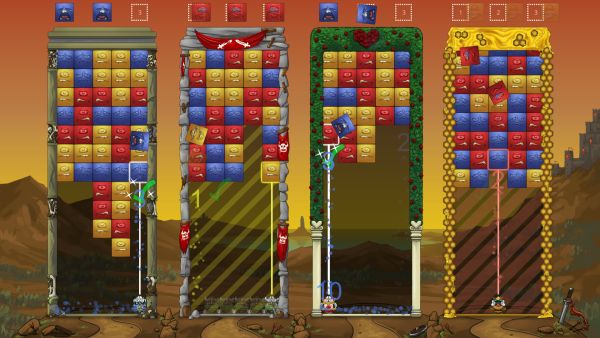 But if you'd rather go it alone, Tumblestone offers a massive Story Mode that includes more than 300 puzzles and Modifiers that quickly turn the game into a brain-melting war. It's cute and cartoony, but it's war nonetheless. The smart designs of the puzzles, and the constant deployment of new Modifiers, will keep players coming back again and again to work their way to the end.
There's even an option to relax with several neverending Arcade Modes, including Marathon (raise a bar by clearing all blocks in a row), Infinipuzzle (clear blocks in waves), and Heartbeat (clear blocks as the stack pushes towards the bottom of the screen). Each mode is different enough that they all add a lot to Tumblestone's already substantial package.
Speaking of Tumblestone's package, it's important to realize the game is being sold in a rather unorthodox manner. On Steam, players can purchase the "Tumblestone Multiplayer Starter Pack" for one price and then upgrade to the full game (Arcade Modes + Story Mode) for another charge. But on the Xbox Games Store, the multiplayer modes and Story Mode make up the base game, and the Arcade Mode is a separate DLC purchase. And on the Wii U, all three ways to play are sold in a single bundle. This gives players several different options to buy the game piecemeal if they so choose, but those that want the complete experience will likely have to make two purchases.
Whether I would recommend Tumblestone to you comes down to one simple question… do you like puzzle games? If so, stop everything you're doing and pick it up right away, because it is exactly what you're looking for. This goes double for Xbox One owners, because Tumblestone is a free download through the Xbox Games With Gold program all this month.
But even if you don't like puzzle games, I think there's a very good chance you'll love Tumblestone anyway. It's just that good.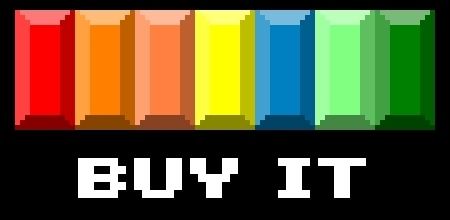 Review Disclosure: A review copy of Tumblestone was provided by The Quantum Astrophysicists Guild for the purposes of this review.