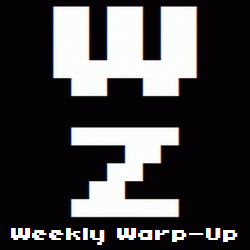 No, that's not a typo. Welcome to the Weekly Warp-Up, your weekly wrap-up of the biggest and the best articles posted at Warp Zoned this week…
If you find yourself on the geek spectrum, I'm sure you spent the last seven days recovering from a Comic-Con-induced coma. Like they always say in superhero movies… a storm is coming… and this massive wave of pop culture will surely envelop everything in its path. So it was nice to get a little bonkers with new rumors about Nintendo's upcoming NX console.
According to the latest reports from industry insiders, the NX will be a handheld/console hybrid that features detachable controllers for on-the-go multiplayer gaming. If these rumors pan out, NX owners will also be able to attach the console to a base station for TV-based play.
Elsewhere on Warp Zoned this week, Andrew Rainnie filed another Kickstart This! column and pitched crowdfunding fans on Columnae: A Past Under Construction.
If you're for more news from this past week, you can find it after the break.
New Game Announcements
Pre-Launch Updates and Release Date Announcements
Other Game News
New Videos
Etcetera
New Release Round-Up