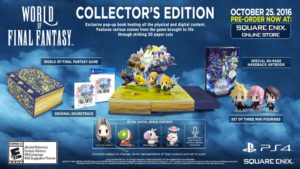 Square Enix has announced that World of Final Fantasy will be released in three different packages this October.
PS4 owners will be able to purchase a Collector's Edition of the game exclusively through the Square Enix Online Store for $119.99. Owing to the game's storybook nature, the entire package will be house in a case that folds out into a pop-up book which reveals the rest of the bonus content:
World of Final Fantasy Collector's Edition

Presented as a physical pop-up book, World of Final Fantasy comes to life through striking 3D paper cutouts. As the pop-up book is opened, fantastic physical content concealed in the book is revealed.
Physical game disc
A special 80-page hardback artbook showing off the fresh toy-like visuals
The original soundtrack of the game's enchanting score
A set of three mini-figurines including the legendary Cloud, Lightning, and Squall
Extra digital content, including White Chocobo, Glow Moogle and Red Bonnetberry mirages, a Sephiroth summon, and a Japanese voice-over option add-on
Those seeking to spend a bit less money can opt for the PS4 Limited Edition, which includes the game, a mini artbook, and the extra digital content, all for $59.99. A Day One Edition containing just the game and the extra digital content, and also priced at $59.99, will be available for the PS4 and Vita.
To further sell you on the game, Square Enix has produced a new trailer for World of Final Fantasy that debuted at the San Diego Comic-Con today. You can view the "Welcome to Grymoire" video after the break.
And don't forget, World of Final Fantasy will be released for the PS4 and Vita on October 25.