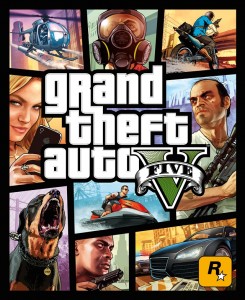 With a sweltering Summer in full swing, game publishers mostly skipped the month of July. And nowhere is this more evident than the monthly NPD ranking of best-selling games, which was topped by Rockstar's Grand Theft Auto V, a game that was originally released almost three years ago. The only new release to crack the top ten in July was Capcom's Monster Hunter Generations, which claimed the #4 spot.
Speaking to GamesIndustry.biz, NPD analyst Sam Naji said: "Lack of strong new titles for the month resulted with poor comparison with last July's Batman: Arkham Knight with consumers spending 14 percent less year-on-year on hardware, software and accessories. However, the release of Monster Hunter: Generations and the price drop for the 2DS helped to bolster spending for 3DS and 2DS hardware by 44%"
While brand new titles were a rare sight in the NPD's July 2016 top ten, new-ish titles like Overwatch (#2), Lego Star Wars: The Force Awakens (#3), and Doom (#8) continue to be popular with shoppers.
The NPD Group continued their foray into tracking sales of digital downloads last month, though Capcom, Mojang, Bethesda, and Blizzard (for Battle.net sales) chose not to participate.
A full look at July 2016's best-selling games can be found after the break.
Best-Selling Games in July 2016
1. Grand Theft Auto V
2. Overwatch**
3. Lego Star Wars: The Force Awakens
4. Monster Hunter Generations**
5. Call of Duty: Black Ops III
6. Minecraft**
7. NBA 2K16
8. Doom (2016)**
9. Destiny: The Taken King
10. Tom Clancy's Rainbow Six: Siege

** Digital Sales Not Included