PAX West 2016 was full of innovation, creativity, and, of course, fun. One of the best intersections of these three assets was at the MetaArcade booth, where they were demoing Tunnels & Trolls: Naked Doom.
"Wow, Nicole. What exactly is Tunnels & Trolls: Naked Doom?" you might be asking yourself right now. Let me start by explaining a little more about MetaArcade and their vision for the future of text adventures.
MetaArcade, a Seattle-based indie developer, has developed a new game engine for designing text adventures that they call the MetaArcade Adventures Platform. Through this, creators can input not just text into their text adventures, but also art and music. Think of something like Twine or Inform 7, but the software gives you more than just the ability to make interactive fiction. Users will be able to add in their own artwork and create a soundtrack, and there will also be an asset library to pull from if they don't want to make their own. To showcase the platform, MetaArcade teamed up with Flying Buffalo from the tabletop industry, and digitally remastered the 1975 RPG Tunnels & Trolls.
The final product is part Steve Jackson's Sorcery! and part Crimson Shroud, bringing the old RPG to life in a more modern way. Players choose a character and then go through the story, choosing paths, rolling for random encounters, and fighting monsters along the way. Digital dice roll across the screen to let you know if you've succeeded or failed, with that iconic sound all RPG players are more than familiar with.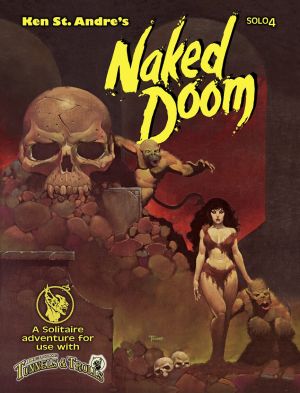 I played through Tunnels & Trolls: Naked Doom and then had a chance to talk with David Reid, the Founder and CEO of MetaArcade, to learn more about his vision. The main focus, he said, is on narrative, and being able to build a platform for anyone who can write so that they can tell a story and bring it anywhere, even to mobile – without having any programming experience whatsoever.
But what would happen after the stories are written and the art and music is integrated into the story? The goal would be that MetaArcade would then help the games to get published on Steam, allowing the writers and developers of the game to get a revenue slice.
I asked how the reception was at PAX West, and Reid said it was positive: "Old school fans are happy to see the banner, and kids are really enjoying this, because they didn't get to grow up with this, so it's new to them." Parents were surprised to see how into it their kids were, because text adventures are something the older generations don't think kids – with vibrant digital worlds right at their fingertips – would be into.
The platform will have an expansive library, full of music and art that can be used similar to the asset store in many different game developer programs. The price point on the stories themselves will depend on their content. "Naked Doom will be a few dollars, but mini adventures could be as low as $0.99, and bigger adventures could be $9.99," said Reid.
Ambitious and innovative, the MetaArcade team also had an infectious excitement. While text adventures have been around for decades, the ability to seamlessly add art and music has the potential to be a game changer. The MetaArcade Adventures Platform will hopefully be launched in early 2017, with an Early Access released planned for late 2016. If you want to give it a go when it comes out, you can sign up now for early access.