Nearly complete game list for the Retro-Bit Generations microconsole announced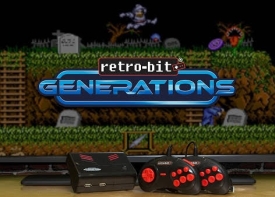 The Retro-Bit Generations microconsole was originally announced last month, and at the time, the HDMI-compatible device was expected to include more than 100 built-in games. Earlier this week, Innex Inc updated the microconsole's official website and confirmed 97 of those titles with "more to be announced."
With support from Capcom, Data East, Jaleco, and Irem, the list below includes a lot of 8-bit and 16-bit classics that were previously available on the NES, Super NEs, and Genesis. But there's also more than a few titles that'll surely leave you shaking your head.
The Retro-Bit Generations will launch sometime this Fall, and be available for a suggested retail price of $59.99:
1942
1943
2048
10 Yard Fight
Aguna
Apocalypse II
Argus
Astrohawk
Astyanax (Lord of King)
Avenging Spirit
Banishing Racer
Bases Loaded
Bashi Bazook: Morphoid Masher
Battle Squadron
Battle Unit Zeoth
Big Run
Bionic Commando
The Black Bass
The Blue Marlin
Brawl Brothers
Broken Circle
Captain Commando
City Connection
Commando
Corn Buster
Creepy Bird
Escape from Atlantis
ExedExes
Exerion
Field Combat
Forgotten Worlds
Formation Z
Fortified Zone

Free Fall
Ghosts N Goblins
Gun Smoke
Hammerin Harry
Hero Pinball Party
Higemaru
Holy Diver
Hoops
The Ignition Factor
Ikari No Yousai 2
Image Fight
Jim Power
Kaitetsu Yanchamaru 3
Kickle Cubicle
Kid Niki Radical Ninja
Knights of the Round
Kung Fu
Kung Fu Master
Lan Master
Lawn Mower
Legend E
Major Title Golf
Maru's Mission
Mazezam
Mercs
Mr. Bloopy
Night Defender
Night Defender 2
Ninja JaJaMaru-Kun
Ninja JaJaMaru no Daibouken
(Ninja Kid's Big Adventure)
Onslaught

Operation Logic Bomb
The Peace Keepers
Pinball Quest
Questforge
R-Type III
Ring King
Rival Turf
Rockfall
Rocky Rodent
Rod Land (Game Boy)
Rod Land (NES)
Skip And Friends
Smart Mouse
Soldam
SonSon
Sumo Slam
Super Bases Loaded
Super Bases Loaded 3
Super Earth Defense Force
Super Ghouls N Ghosts
Super Noah's Ark
Super Professional Baseball
Super R-Type
Sword of Sodan
Thor's Quest
Totally Rad
Tuff E Nuff
Varth: Operation Thunderstorm
Water Margin
Yang Warrior Family
Youkai Kurabu
Zippy Race
Zooming Secretaries
It's Dangerous To Go Alone! Read This.
A Commenter Is You!