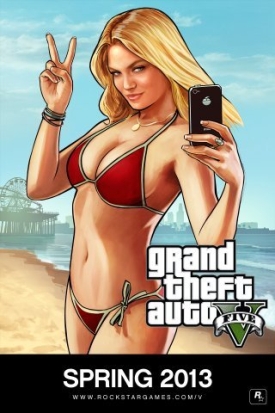 Hey, remember when Lindsay Lohan filed a lawsuit against Rockstar Games for using her image without permission in Grand Theft Auto V? I'm going to be honest with you, I completely forgot it was still an open case. Apparently, the gears of justice grind slowly, but last week, the Supreme Court of New York County dismissed Lohan's case.
According to the Court Report, Lohan's claim was dismissed because Rockstar did not use her name or likeness in Grand Theft Auto V. While Lohan believes that Rockstar stole her "signature style" for the bikini model featured in most of the game's advertisements, the Court ruled otherwise.
However, the Court also said that even if Rockstar had based the character on Lohan, her claim would still be dismissed because Rockstar's authorship of Grand Theft Auto V is protected under the First Amendment as "a work of fiction and satire."
The Court also dismissed a similar lawsuit from Karen Gravano last week. Gravano, the daughter of famed mafia underboss Sammy "The Bull" Gravano, claimed that Rockstar illegally based the character of Andrea Bottino on her. While both women share a past entwined with the Sicilian Mafia and reality TV, like Lohan's suit, the Court ruled that even if Rockstar had based the character on Gravano, they were protected by the First Amendment.
While this sounds like a pretty definitive end to two rather frivolous lawsuits, this might not be over for Rockstar. Both Lohan and Gravano have the ability to appeal the ruling and will likely do so.