It's no secret that we're fans of The Behemoth here at Warp Zoned. So, of course, I made my way to their booth at PAX West as early as I possibly could. I was hoping to get a chance at their most recent game, Pit People, previously known as the very descriptive Game 4. I sat down with a buddy, grabbed my (surprisingly heavy) custom arcade stick, strapped on some headphones, and got down to cooperative business.
Platforms: PC, Xbox One
Publisher: The Behemoth
Developer: The Behemoth
Genre: Turn-Based Strategy X The Behemoth
Release Date: TBA 2016
ESRB Rating: Rating Pending
Much of what I got to play was similar to what we already saw in our PAX East 2015 preview of Pit People, down to the crazy arcade stick with its execute lever. The big difference is that my experience was co-op… and that the game has a real title now!
As Horatio, the blueberry farmer, you and your co-op pals need to defend the farm from baddies… though as with the single-player game, this ends with your son getting killed, which is a super dark (and typically Behemoth) way to start the game (SPOILER ALERT!! However, the Closed Beta revealed that Horatio's son is alive and being held hostage by the Evil Space Bear!!). Also typical is the hilarious narration of Will Stamper, who brings the writing to life.
The hex-based map is perfect for team play, with my buddy and I talking strategy and trying to optimize our maneuvers. We were thwarted more than once when a hit from my character took out a baddie my partner was about to hit, which was a bummer. And at one point, we managed to snag a Behemoth employee to ask for some help, because there were times we'd be up against two enemies at the same time, and we weren't sure how to choose which one we wanted to hit. The answer is that you don't get a choice: it's randomly chosen by the game. This, too, was a bummer, because there's not a lot of strategy in assigning hits to a random enemy.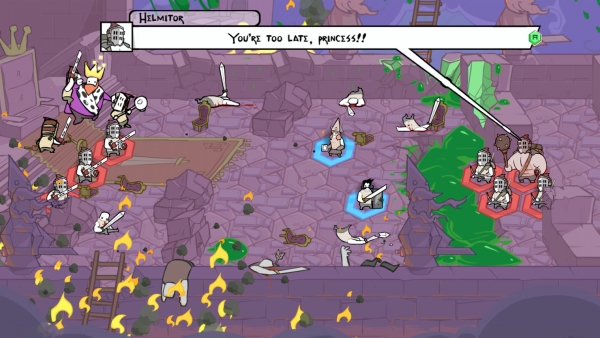 Nevertheless, we still had a lot of fun in the several levels we played: the opening fight in front of the blueberry farm; a battle in a throne room, and a gladiatorial battle in what I'm assuming are the pits of the title. We didn't get a chance to see what was arguably the best part of the demo, which was the ability to choose characters, though we did see the many different types on offer.
We saw many of the same characters from the PAX East 2015 build, including my favorite, Princess Pipistrella, whose badassitude knew no bounds. And the seamless way The Behemoth delivers all of the information you need, from weapons to attack explanations, was both helpful and delightful.
I've never been disappointed by a Behemoth game, and so far, it looks like Pit People will continue along those lines. Despite this genre being off their beaten path, it looks like they're getting it right so far. The addition of multiplayer is an absolutely natural one, and fits well with the style and gameplay of Pit People.
Sadly, there's no release date announced yet, but two closed betas will be available throughout September and October. You're too late for the Xbox One beta, which runs from September 8th to the 18th, but you can register for the PC beta that's scheduled to begin on September 28.