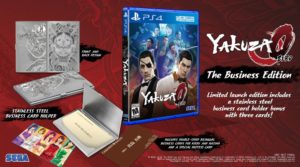 "It's not personal… it's business" is the mantra of organized crime bosses all over the world. And Sega is taking those words to heart after announcing a special "Business Edition" of Yakuza 0.
Available exclusively for the PS4 on January 24, the "Business Edition" will include a copy of Yakuza 0, as well as a Stainless Steel Business Card Holder adorned with Kiryu's "Ryu" (dragon) and Majima's "Hanya" (demon) tattoo designs and three Business Cards (one each for Kiryu, Majima, and Sunshine's Hostesses). Sega will offer the "Business Edition" of Yakuza 0 to anyone who pre-orders the game, but the Business Card Holder and Business Cards will also be included with every copy that's part of the first printing.
Sega also released a brand new trailer for Yakuza 0, which depicts Kazuma Kiryu taking care of business after the Yakuza frames him for murder. You can find it after the break.