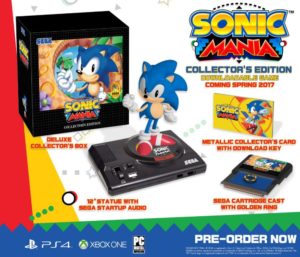 "Say-Gaa!"
That sing-songy overture greeted millions of players during the Genesis era, and Sega is resurrecting it for Sonic Mania. The side-scrolling Sonic game will be available to download for the PC, PS4, and Xbox One in Spring 2017, but fans will also be able to spring for a special Collector's Edition that's priced at $69.99.
The highlight is a Sonic statue that actually makes the "Say-Gaa!" sound, but the whole package will also be housed in a Deluxe Collector's Box and include a host of other goodies:
Metallic Collector's Card – Includes Download Code for the Digital Game.
Sega Cartridge Cast – Includes Gold Ring.
12-Inch Sonic Statue – Plays the "Say-Gaa!" startup audio when the power switch on the replica Sega Genesis is flipped.
"This Collector's Edition is the perfect blend of past and present Sonic, and contains items we know fans new and old will really appreciate," said Ivo Gerscovich, Sega's Chief Brand Officer for Sonic. "Sonic is a cultural icon and helped define gaming for a generation of gamers, and continues to do the same today. With Sonic Mania, and this special Collector's Edition, we're paying homage to his beginnings and giving fans the ultimate nostalgic experience as we celebrate his 25th anniversary and look ahead at the future of the Sonic brand."
Sega also has a second Sonic project in the works for next year, and the currently untitled Project Sonic will be released in Fall 2017.