The Walking Dead Season 3 gets a new name and a November launch date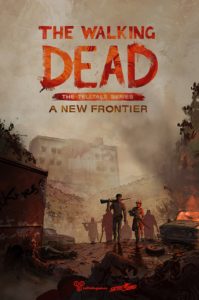 Developers from Telltale Games have always said they never liked referring to the third game in their Walking Dead series as The Walking Dead Season 3. Today, during a PAX West panel hosted by the publisher, the game's official title was finally revealed…
So say hello to The Walking Dead: A New Frontier.
"This third new season will serve as both a continuation of what's come before in our story, as well as an all-new beginning set nearly four years after the outbreak events of Season One," said Kevin Bruner, the CEO of Telltale Games. "As a harrowing and horrific drama, A New Frontier will explore beyond what it means to survive in a world ravaged by the undead, and will see our characters confronting the new rules of order and justice in a land being brutally reclaimed and rediscovered by what's left of humanity itself."
"When we began this series, we explored what it meant to protect a character like Clementine at all costs," said Kevin Boyle, an Executive Producer on the Walking Dead series. "Years later, meeting her for the first time, Javier will begin to unravel the mystery of who Clementine has become, as her story intersects with his – both of them still driven by the things they value most long after society's collapse."
The Walking Dead: A New Frontier's first episode will be available this November for consoles, mobile devices, and the PC. Like other recent Telltale titles, a Season Pass Disc will also be available that includes the first episodes and gives players downloadable access to each subsequent episode as they're released.
It's Dangerous To Go Alone! Read This.
A Commenter Is You!