Last week, Square Enix released a demo of Dragon Quest Builders ahead of its October 11th launch. I haven't played a Dragon Quest game since Dragon Warrior hit the NES, and that one ended in horrible tragedy. I never had any prior interest in Dragon Quest Builders; my only knowledge being that it incorporated elements of mega-hit Minecraft. I was a fan of Minecraft, so I decided to give it a shot. I mean, that's the point of a demo, right?
Platforms: PS4 (Version Played), Vita
Publisher: Square Enix
Developer: Square Enix
Genre: Crafty Action RPG
Release Date: October 11, 2016
ESRB Rating: Everyone 10+
The Dragon Quest Builders demo gives us a good insight into the game's story. Evil has corrupted the land, and a dark emperor now reigns supreme. In order to maintain his control, he has taken knowledge away from all the human inhabitants of Alefgard, and now the people roam the country as loners. They have lost the basic skills needed to build homes, and thus, towns, and therefore have no direction. Your character, Bildrick (get it?), awakens in a tomb after centuries of slumber, brought back to this world by a mysterious voice. The voice instructs him that it his responsibility to bring humanity together as a community again in order to defeat the darkness that has taken over.
The demo also acts as something of a tutorial to the full game. Over the course of the demo, I built homes, crafted items, and battled monsters. To say that this is like a Dragon Quest version of Minecraft is somewhat true, but there's more to it than that. I'm excited because I now get to use one of my favorite words… amalgamation. Dragon Quest Builders is an amalgamation of three games: it's got the world of Dragon Quest (specifically the first game in the franchise), the mining and building aspects of Minecraft, and the battle system and viewpoint of The Legend of Zelda: A Link Between Worlds. So if you're a fan of all three of those, you may want to give this demo a try.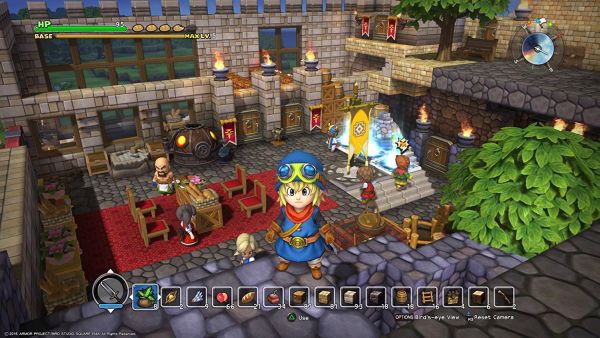 I accomplished a lot during my three-hour adventure. Having only played the first Dragon Warrior, I was pleasantly surprised to immediately recognize the overworld theme, which is an updated version of the song from that game. I met and brought three people into my town, and together, we built homes. I scoured the countryside, battling classic monsters and collecting resources to craft new items. I even happened upon a sleeping dragon, and, of course, tried to kill it. I quickly realized that I was not yet equipped to handle that battle, turned tail, and fled. After fighting off a wave of attacking skeletons, I defeated their boss, and earned an item needed to create a portal to a new island.
Then the demo ended. Leave 'em wanting more, I suppose.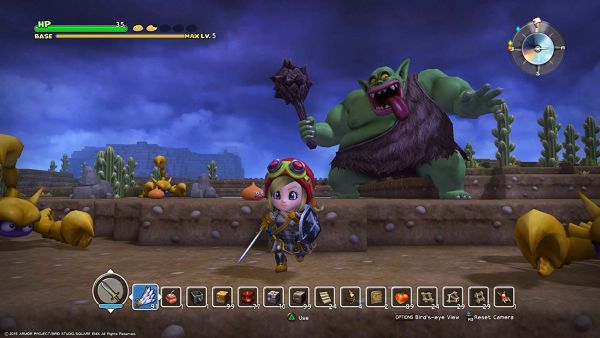 But it worked… I did want more. I was actually very surprised at my reaction. I quickly went from having zero interest in Dragon Quest Builders to placing the game dead-center on my radar. If the rest of the game is anything like the demo, I may have to buck my 30-year injunction on the Dragon Quest series and pick up the title. The game feels like something you can pick up and play for either a quick hit or a nightlong marathon. I would highly recommend giving the demo a try… you may be just as surprised as I was.
Dragon Quest Builders hits the PlayStation 4 and PlayStation Vita on October 11th. The Vita version is digital-only, while the PS4 version will be available as both a physical disc and through the PlayStation Store.