If you didn't notice, there hasn't been a new Kickstart This! in over a month, mostly because John works us all far too hard (joke), but largely because the column was becoming a bit hum-drum. Kickstarter has started to feel less like a creative space for games that could not find life with a traditional publisher, and more like a graveyard for great ideas poorly sold, or a junkyard for half-baked ideas that had not been given time to mature.
I had heard Kickstarter was also going to be updating the crowdfunding platform in a "major" way. This turned out to be more than a lick of paint, which, as an aside, the site has received – it runs a lot smoother and the and the options are much clearer now.
The big change turned out to be Kickstarter Live, which launched on the 1st of November. It allows creators to host a live broadcast, and to field questions from potential backers in the comments section. The benefits of this should not be underplayed. Audience engagement is one of the toughest nuts to crack when raising funds via crowdfunding. While project updates offer people news, being able to interact with backers on the same platform, instead of hosting an AMA on Reddit or a Facebook Live broadcast, especially in the early days of a campaign, means that you can rally your troops and harness that momentum more easily.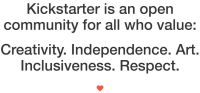 Speaking of rallying the troops, the world has change quite a bit over the last few weeks, and Kickstarter is no different. With a wave of protests and a renewed sense of charity sweeping the globe in response to recent world events, Kickstarter temporarily changed their front page in support.
And in honor of Kickstarter's expansion into Mexico, we're looking at Ariel, a video game developed south of the border, this week.
Project: Ariel
Developer: Nuclear Fiction
Genre: First Person Sci-Fi Horror
Platforms: PC (Win/Mac/Linux/VR), PS4
Funding Target: $290,000 MXN (approx. $14,170)
What Is It?
Ariel is a sci-fi-themed FPS that focuses on survival and horror elements rather than a straight shooter. Players take control of Professor Ferdinand Ludec, a scientist who has been kidnapped and sent on a mission to Ariel, one of Uranus' moons. Upon arrival, he finds the entire crew of the research station dead. Ludec must conserve his resources and survive the hostile environment while trying to figure out a way back home.
Why Fund It?
Ariel has been in development for over two years, and is also targeting a release on virtual reality platforms. Nuclear Fiction is keen to put emphasis on the fact that they wrote a horror script akin to a movie, pushing the horror angle for an immersive VR experience. The graphics and animation shown in the trailer are gorgeous and fluid thanks to the Unity engine, with echoes of BioWare's Mass Effect series. The game also promises a partially procedurally-generated world. The story itself will have several different outcomes depending on your choices within the game. Even though the composer hasn't been credited, another strength is the amazing 80s sci-fi synth soundtrack.
Best Rewards?
Digital copy of the game on Steam, name in credits – $200 MXN
Previous rewards, plus digital copy of the soundtrack – $300 MXN
Previous rewards, plus digital PS4 copy of the game – $400 MXN
Previous rewards, plus three Ariel badge – $650 MXN
Until Next Time…
It is always inspiring that, even in these dark times, when we are seeing the rise of fascism not just in the US, but in the UK, France, and other supposedly forward-thinking nations, people are still coming together to create something bigger than themselves. Other people, such as yourself, offer money and support so that these people can continue to do so, support that crosses not just physical borders, but those of race, sex, language, and religion.
Game companies like to make slogans to sell hardware, but I think Sony said it best. This is for the players.