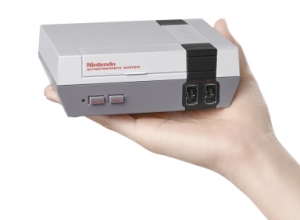 It's no secret that Nintendo's NES Classic Edition is currently quite difficult to find on store shelves. Naturally, the unfulfilled demand has sent people scrambling to eBay, where buyers are paying exorbitant amounts of money to obtain the nostalgia-fueled microconsole.
Nintendo has promised to replenish the retail stock as soon as they can, but in the meantime, a new report from Famitsu has given us an idea of just how many NES Classic Edition consoles are out there. According to the gaming magazine, Nintendo sold 262,961 consoles in Japan during its launch period of November 10th through the 13th. The microconsole is known as the Famicom Classic Edition in Japan, and features slightly different styling from its American and European counterparts.
While this report doesn't provide worldwide sales numbers for the NES Classic Edition, we can use a little educated guesswork to get a rough estimate. Assuming a roughly equal shipment between all three territories, it's likely that Nintendo has already sold more than 750,000 NES Classic Edition consoles. And if Nintendo shipped more consoles to North America and Europe, its possible that total worldwide sales for the NES Classic Edition have already topped one million consoles.