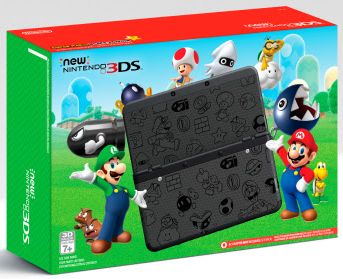 The New 3DS is dropping below $100 for the first time as Nintendo has announced it'll slash the price of its high-end handheld beginning on November 25. Available for $99.99 in Mushroom Kingdom Black or Mushroom Kingdom White, the new handhelds will feature characters and items from the Super Mario Bros. series.
"Nintendo has some of the best gifts for the holiday season," said the appropriately-named Doug Bowser, Nintendo of America's Senior Vice President of Sales and Marketing. "Whether you're looking for games for the whole family, or a cool new system at a great value, Nintendo has you covered."
The current New 3DS bundle is priced at $149.99 and includes a pre-loaded copy of Super Mario 3D Land. Unfortunately, this new New 3DS won't come packaged with a game.