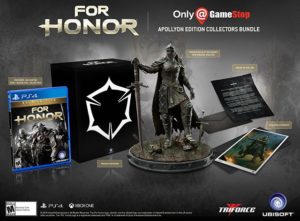 GameStop has revealed that they're all set to be the exclusive retailer for the Collector's Edition of Ubisoft's multiplayer Knights-Vikings-Samurai mashup For Honor.
Priced at a wallet-busting $219.99, the Collector's Edition will be available for the PS4 and Xbox One who want everything the game has to offer. The package includes a copy of For Honor's Gold Edition, along with a statue, and other goodies:
For Honor Collector's Edition

For Honor Gold Edition – Includes Base Game, Deluxe Pack, and Season Pass.
14″ Apollyon Statue – Standing at over a foot tall, this highly-detailed statue features an accurate reproduction of Apollyon, For Honor's main Warlord.
Exclusive Apollyon Lithograph – The Warlord of the Blackstone Legion seeks to bring war to her enemies in this exclusive Limited Edition Lithograph.
Origins Note – Go deeper into the battlefields of For Honor as you uncover Apollyon's previously untold origins. What secrets lie in the past of the Blackstone Legion's mysterious leader?
Premium Collector's Edition Packaging
Both the For Honor Collector's Edition and the game-only Standard Edition will be released on February 14.