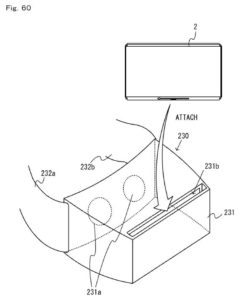 A few months ago, Nintendo President Tatsumi Kimishima gave a very interesting answer when a reporter from Bloomberg asked if the Switch would ever receive its own virtual reality headset. While the executive didn't answer in the affirmative, he admitted "it's something we must consider."
And consider it they have.
Earlier this week, Nintendo filed a patent application with the US Patent and Trademark Office for a Switch accessory that looks quite similar to mobile virtual reality headsets such as Samsung's Gear VR or Google's Daydream View. The goggles-style headset would feature a slot at the top, which would house the Switch's tablet screen. After strapping it to their head, players could then use the detachable Joy-Con controllers or a Switch Pro Controller to play VR-style games.
However, as with all patent applications, it's important to remember that Nintendo is merely disclosing a possible use for the Switch. There's no guarantee this headset accessory is in development, and on top of that, the patent application doesn't include any mention of "virtual reality" or "VR."
Nintendo will fully unveil the Switch on January 12, after which they'll immediately take it on a multi-city Preview Tour across North America. While it might be a while before we learn more about the console's possible VR capabilities, it'll be released sometime in March.