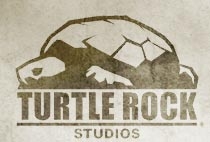 When Turtle Rock parted ways with 2K earlier this year, they left the future development of Evolve in the publisher's hands. But the developer has revealed they have no plans to stop creating co-op shooters after partnering with Perfect World on a new free-to-play title.
Steve Goldstein, Turtle Rock's President, recently sat down with GamesIndustry.biz to discuss this new title, the team's future, and the difficulty of being an independent AAA developer in today's world. The executive confirmed that the game, which is currently untitled, won't be released until "at least 2018." He also said it shouldn't be considered a spiritual successor to Evolve or the Left 4 Dead series because it takes place in a "dark fantasy" world:
According to President and GM of Turtle Rock, Steve Goldstein, the developer isn't willing to go so far as to call the new IP a spiritual successor. "We think that kind of label has big expectations tied to it, also – it sets an expectation that we're making something sequel-like that does not deviate too far from the original formula. And while we focus on awesome first-person shooting and co-op, we'd rather have the new game be something our players classify and designate and judge without us affixing the label ourselves," he said.

"What we can say is that we are definitely going back to our moment-to-moment gameplay roots with a huge focus on co-op FPS. There will be plenty of baddies to shoot up, but it is not a 'zombie game' or anything post-apocalyptic. What we can say right now is there's a strong dark fantasy element to it."
Goldstein is also very impressed with the way developers are able to quickly respond to fan feedback in the free-to-play space. However, it's likely the last thing we'll hear about Turtle Rock's next game for a long time.
UPDATE: An official press release from Turtle Rock has confirmed their free-to-play project is in development for "PC and console."