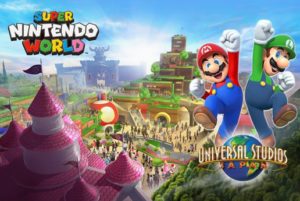 Universal Studios Japan has given fans their first look at "Super Nintendo World," which will open in 2020. The first Nintendo-themed area for the amusement park chain will celebrate its grand opening just before the Summer Olympics in Tokyo, and a brand new conceptual rendering has given us a glimpse at Peach's Castle and Bowser's Castle.
Universal has announced plans to spend nearly half a billion dollars to build the massive attraction:
Super Nintendo World will be comprised of expansive and multilevel environments filled with unprecedented, state-of-the-art rides, interactive areas, shops and restaurants, all featuring Nintendo's most popular characters and games. Development cost at Universal Studios Japan is currently expected to exceed 50 billion Yen [$433,520,000]. Super Nintendo World will be developed mainly using the park's current parking area and part of an area designated for future expansion.
In addition to the sights and sounds of the Mushroom Kingdom, Universal has promised that "Super Nintendo World" will stimulate "all five senses" for Nintendo fans. Perhaps Link's recipe file from The Legend of Zelda: Breath of the Wild will make its way onto the menu at "Super Nintendo World."
Universal will also build Nintendo-themed areas at Universal Orlando and Universal Studios Hollywood. Details on those attractions will be announced at a later date.