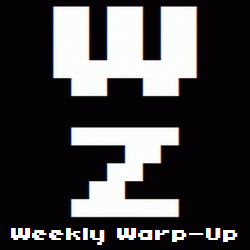 No, that's not a typo. Welcome to the Weekly Warp-Up, your weekly wrap-up of the biggest and the best articles posted at Warp Zoned this week…
"You there, boy! What day is this?"
"Today, sir? Why, it's Christmas Day!"
Whether you're spending time with family or having a chat with three spirits, wishing for a Red Ryder BB Gun, or throwing Hans Gruber off a skyscraper, it's time to be of good cheer. Even if the great video game news wheel has ground to a halt in the last few days of 2016.
Though let's not forget, Square Enix gave us a brand new look at Dragon Quest XI: In Search of the Departed Time, 343 started to internally discuss "super-secret" stuff related to Halo 6, and Niantic kicked off a "Year-End Event" for Pokemon Go.
Elsewhere on Warp Zoned this week, UK Correspondent Andrew Rainnie filed his final Kickstart This! of the year for Super Red-Hot Hero, and Editor-In-Chief John Scalzo reviewed Super Mario Run.
Ho! Ho! Ho! Now we've got more news after the break.
New Game Announcements
Pre-Launch Updates and Release Date Announcements
Other Game News
New Videos
Rumor Has It
New Release Round-Up