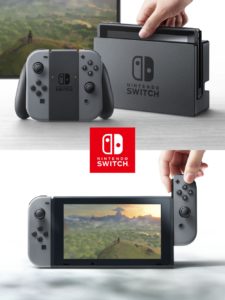 We are now less than five weeks out from the launch of the Nintendo Switch, so Nintendo UK has unveiled an official list of the technical specifications for the hybrid console. Nintendo is still keeping some of the exact specifications to themselves (the CPU/GPU is just listed as "Nvidia Customised Tegra Processor"), but now we have a much better idea about how the Switch will perform under pressure.
Probably the biggest piece of new information we were provided about the Switch's prowess is its battery life. The console will feature a max battery life of six hours in Handheld Mode, though some games may tax the battery a bit more. Nintendo included the example of The Legend of Zelda: Breath of the Wild, which will be playable for three hours with a full charge. Nintendo also shared that the Switch's battery is fully replaceable, though it must be installed by the consolemaker themselves through the Nintendo Customer Support service.
The console will also output video at 1080p (720p in Handheld Mode) and require a "Day One" update to enable the use of MicroSDXC Memory Cards.
A full rundown of the Nintendo Switch's technical specifications can be found after the break.
Size
102mm x 239mm x 13.9mm (with Joy-Con attached)

Please Note: 28.4mm at the thickest, from the tips of the analogue sticks to the ZL/ZR Button protrusions.

Weight
Approximately 297g
(With Joy-Con controllers attached: 398g)
Screen
Capacitive touch screen / 6.2 inch LCD / 1280×720 resolution
CPU/GPU
Nvidia Customised Tegra Processor
System Memory
32 GB

Please Note: A portion of this internal memory is reserved for use by the system.

Communication Features
Wireless LAN (IEEE 802.11 a/b/g/n/ac Compliant)
Bluetooth 4.1 (TV Mode Only)
A Wired LAN connection is possible through the use of a commercially available Wired LAN Adapter.
Video Output
Maximum Resolution: 1920×1080 / 60 FPS

Please Note: Output via HDMI cable in TV Mode. In Tabletop Mode and Handheld Mode, the maximum resolution is 1280×720, which matches the screen resolution.

Audio Output
Supports Linear PCM 5.1ch

Please Note: Output via HDMI cable in TV Mode.

Speakers
Stereo
USB Terminal
USB Type-C terminal
Used for charging or for connecting to the Nintendo Switch dock.
Headphone Mic Jack
Stereo Output
Game Card Slot
Exclusively for Nintendo Switch Game Cards.
MicroSD Card Slot
Compatible with MicroSD, MicroSDHC, and MicroSDXC Memory Cards.

Please Note: An update via an Internet connection is required to use MicroSDXC Memory Cards.

Sensors
Accelerometer / Gyroscope / Brightness Sensor
Operating Environment
Temperature: 5 – 35°C
Humidity: 20 – 80%
Internal Battery
Lithium Ion Battery (Battery Capacity: 4310mAh)

Please Note: The internal battery cannot be removed. If the battery needs to be replaced, we plan to offer paid replacement via Nintendo Customer Support.

Battery Life
Battery life can last for more than 6 hours, but will vary depending on the software and usage conditions. For example, The Legend of Zelda: Breath of the Wild can be played for roughly 3 hours on a single charge.
Charging Time
3 hours Approximately

Please Note: This is the time taken to charge while the console is in sleep mode.