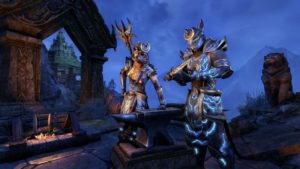 Been looking for a reason to jump back in to the world of The Elder Scrolls Online, or just need a new outfit to spice things up? Well, we've got good news!
For a limited time only, Elder Scrolls Online players can visit the game's Crown Store to purchase the Dro-M'Athra Crafting Motif. According to Bethesda…
"It is said that deep in the Dark Behind the World, there are grim forges and bent benches where Lost Cats arm and armor themselves. To save you a trek to this afterlife, the Crown Store merchants have bought the Dro-m'Athra Style Crafting Motif to a store near you."
But remember, this is a limited time offer that ends Monday, January 30. The Dro-M'Athra Crafting Motif is priced at 6,000 Crowns which translates roughly to about $49.99… give or take seeing as a pack of 3,000 Crowns will run you $24.99.
Admittedly, one could argue that $49.99 is a steep price for a Crafting Motif, limited edition or not. However, for hardcore Elder Scrolls Online players looking to make their characters more unique and to ensure they always standout in the middle of a rescue mission in the depths of Cold Harbor or while perusing the merchants center in the deserts of Stros M'kai, the investment might be worth it. Besides, who wants to wear basic armor when they can clothe themselves with armor that glows?