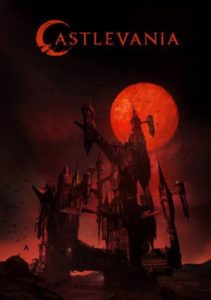 A Castlevania television series will make its way to Netflix this year, and Producer Adi Shankar recently revealed the first poster for the animated adaptation on his Facebook page. We still don't know when the series will debut, but the gothic vibe that Shankar is going for is certainly evident in this image.
According to Netflix, the first season will be comprised of four half-hour episodes:
Inspired by the classic video game series, Castlevania is a dark medieval fantasy following the last surviving member of the disgraced Belmont clan, trying to save Eastern Europe from extinction at the hand of Vlad Dracula Tepe himself.
Based on Castlevania III: Dracula's Curse, the Castlevania series will be written by Warren Ellis, and a second season is said to be in production for release in 2018.