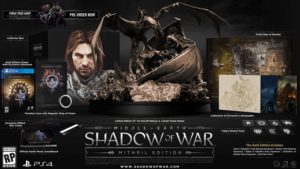 Yesterday, WB Games announced that Middle-Earth: Shadow of War will be released in August, but the publisher has also partnered with GameStop to produce a wallet-busting special edition of the game for the PS4 and Xbox One.
Priced at $299.99, the Mithril Edition will include a huge statue of a Tar-Goroth Balrog battling against a Carnan Drake, as well as access to "Gold Edition" downloadable content, and lots of other loot:
Middle-Earth: Shadow of War Mithril Edition

Middle-Earth: Shadow of War Gold Edition in Exclusive Steelcase

Nemesis Expansion: Outlaw Tribe
Nemesis Expansion: Slaughter Tribe
Story Expansion: Blade of Galadriel
Story Expansion: Desolation of Mordor
In-Game Item: Gold War Chest

Limited Edition 12″ Tar-Goroth Balrog Vs Carnan Drake Statue
Magnetic Ring of Power in Premium Case
Official Game Music Soundtrack
Cloth Map of Mordor
Collection of Exclusive Lithographs
Tribe Sticker Pack
In-Game Item: Mithril War Chest (Exclusive)
Collector's Box
If you're uninterested in yet another towering statue, but are looking forward to more in-game content for Shadow of War, WB Games is selling the Gold Edition of the game by itself for $99.99. A download-only Silver Edition will also be available for $79.99.
Middle-Earth: Shadow of War will be released on August 22.