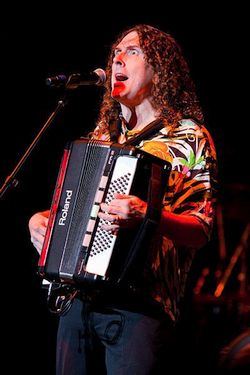 Weird Al Yankovic's career has spanned more than 40 years, but in all that time, the geeky icon only rarely delves into doing game-themed parodies. Perhaps that's because of a bad experience he had early in his career with "Pac-Man," a parody of "Taxman" by The Beatles.
Speaking to Nerdist, Weird Al believes an overzealous lawyer initially rejected the song without ever listening to it: "I'd like to think that none of the Beatles ever actually heard the song back then. It was just some office [clerk] whose whole job is to litigate and prosecute people for copyright infringement."
However, Weird Al would later become friends with George Harrison's son Dhani, and he helped work out a deal to include "Pac-Man" on Squeeze Box: The Complete Recordings of "Weird Al" Yankovic, an upcoming retrospective box set. Squeeze Box will be available this Fall on vinyl and CD, and it'll include every album from Weird Al's career housed in a replica accordion (of course). A 15th disc, Medium Rarities, will feature several unreleased songs (like "Pac-Man"), as well as alternate takes on more popular parodies.
But if you can't wait that long, you can listen to "Pac-Man" at Nerdist right now.