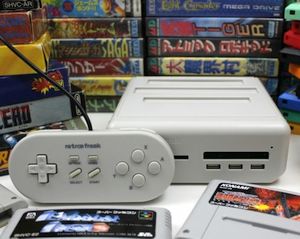 Those of us big on retro gaming had many consoles to play with before today including the RetroN 5, the RetroDuo, the SupaBoy, and the NES Classic Edition. But now, the retro gaming community can add another console to the list, the Retro Freak.
Sold exclusively throughout Europe at FunStock, the Retro Freak is a "12 In 1" retro gaming console that allows you to play all of your favorite classic video games from the PC Engine, TurboGrafx-16, Super Grafx, NES, Famicom, SNES, Super Famicom, Sega Genesis, Sega Mega Drive, Game Boy, Game Boy Color, and Game Boy Advance. This is a big step up from other competing retro consoles, which tend to offer support for just the big three (NES, SNES, and Sega Genesis).
While that list doesn't quite include all of the consoles from the 80s and 90s, it does account for the major players and a few of the lesser known, but equally fun, ones.
Adding to the Retro Freak's cool factor is the ability to play emulated games stored on an SD card. So if you don't have a physical version of the game, you can still play it so long as the (often less-than-legally-obtained) file is present on an SD card. With that same SD card, you can save your game's progress, and pick up where you left off later.
The Retro Freak comes with a SNES style controller, a three pin UK plug and an EU two pin plug. The Retro Freak also features an HDMI output with HD upscaling capability, advanced emulation options such as cheats and multiple save states, and upgradeable firmware.