One of the rare delights of following projects on Kickstarter is when you spot someone trying to build something in your own town or city, be it a video game, an album, a film, or, in this case, a bar. There is an instant, and intimate, connection of homegrown pride and creative curiosity. That's especially true after Super Bario popped up on my radar late in its campaign.
For my sins, I never contributed to Super Bario when the project was live, despite my love of both video games and tasty craft beer. The arcade bar occupies a small space on King Street in Glasgow, Scotland, in an area teeming with art and creative spirit. It backs onto the Tron Theatre, while directly opposite there is Trongate 103, home to Glasgow Print Studio, Street Level Photography, and the Sharmanka Kinetic Theatre.
I have now become a patron of the bar, and try to pop in when I can, enticing friends who love video games, or those who remember being a kid standing before that monolith of entertainment… a cabinet of wood and a CRT display flickering sprites into our awestruck eyes.
Super Bario has proven to be a great success, a space for gamers to chill and enjoy a drink while sucking in the sweet smell of nostalgia. Amidst the craziness, I managed to chat with co-owner Shaun Murawski, who along with Scott McLauchlan and George Black, conceived of the arcade bar back in 2015, and fought hard to make it a reality with the backing of 166 donors.
Andrew Rainnie, Warp Zoned UK Correspondent: Hi Shawn, welcome to Warp Zoned. You were seeking £5,000 in your Kickstarter campaign to bring forth your arcade bar, the brilliantly named Super Bario. For those not familiar with your campaign, tell us what pushed you to start a crowdfunding campaign?
Shaun Murawski: Super Bario is formed out of a simple love and appreciation of a few things: Good Beer, Good Games, Good Times.
Andrew Rainnie, Warp Zoned UK Correspondent: You set a very modest target of £5,000, and managed to smash it, raising well over £6,000. Describe how you and the Super Bario crew felt when you saw that you had reached your target.
Shaun Murawski: The response we received was amazing and we couldn't be more grateful for the donations and support we received. It just confirmed to us there was the audience and want for what we were trying to do.
Andrew Rainnie, Warp Zoned UK Correspondent: You have some classic arcade machines like Teenage Mutant Ninja Turtles and Michael Jackson's Moonwalker. How did you go about sourcing them? Will there be more machines swapped in and out over time?
Shaun Murawski: Many of our cabinets (all original, incidentally) are universal, and we have a catalogue of games that we hope to rotate through over time to make sure there's something for everyone. Because of the age, condition, and rarity of the machines we had to source every single one individually. So that was one of the biggest time consuming things about the project. I say we, but George is the unsung hero of that endeavour. He searched high and low, and we even have one-offs and things you'll struggle to see outside of Japan.
Andrew Rainnie, Warp Zoned UK Correspondent: As a city, Glasgow is not lacking in watering holes of the alcoholic variety. What made the city so attractive to your project?
Shaun Murawski: It was quite simple really. Like you say, Glasgow isn't short of watering holes, but there just wasn't one currently that was quite like [Super Bario]. It's the sort of place we'd want to go, so we thought, why not open it ourselves?
Andrew Rainnie, Warp Zoned UK Correspondent: How easy or hard was it to get the space and licenses to set the bar up?
Shaun Murawski: Everything was time and fund intensive. It wasn't a short or easy process, but opening our doors finally made it all worthwhile.
Andrew Rainnie, Warp Zoned UK Correspondent: Is this the start of a chain? If so, where will Super Bario 2: Bario Harder be located?
Shaun Murawski: We're not counting our chickens or thinking on running before we can walk, so for the meantime we'll say just keep an eye on the bar and all the things we're hoping to do to make it as good as it can be.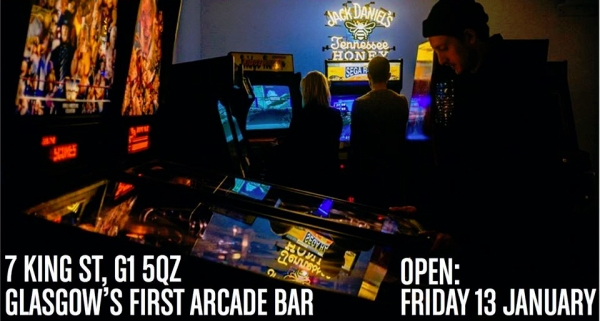 Andrew Rainnie, Warp Zoned UK Correspondent: You launched the campaign in January 2016, and managed to open the bar within 12 months, yet you originally planned to open in Spring 2016. What caused the delays, or was the original plan too ambitious?
Shaun Murawski: Nothing that was ever worth achieving came without hard work and it's all been a steep learning curve for us all. The idea and the start of the project was much longer than a year ago too so we knew we were in it for the long haul. We weren't short of obstacles, but we weren't short of support either, which helped us get there in the end.
Andrew Rainnie, Warp Zoned UK Correspondent: The entrance to the bar has a tiled wall with all the backers names on it. How important was this for you?
Shaun Murawski: It's the very first thing you see when you come in the bar, and it was really important to us for it to be that way. They helped make the bar a reality so we wanted them to be a physical part of it.
Andrew Rainnie, Warp Zoned UK Correspondent: In an age when online multiplayer video games and mobile phones are causing society to become more isolated, how important is it to have a community gaming space like Super Bario?
Shaun Murawski: There's space for all kinds of variation within the gaming community. There's irony like you say in a lot of multiplayer games resulting in isolation but we wanted a truly multiplayer community concept. It should be an excuse to socialise and meet new people who you already have something in common with.
Andrew Rainnie, Warp Zoned UK Correspondent: Where was your furthest backer from? And have they managed to visit yet?
Shaun Murawski: I think our furthest backer may be a friend of mines that I used to play Sunday league football with. He's just become a Dad though, so it may be a while before he pops in for a pint!
Andrew Rainnie, Warp Zoned UK Correspondent: If you could offer those launching projects on Kickstarter any advice, what would it be?
Shaun Murawski: Projects that are labours of love and that you feel passionate about are what catches people attention and support. If you've got a great idea, go for it.
Andrew Rainnie, Warp Zoned UK Correspondent: Do you or any of the Super Bario team have any other crowdfunding plans beyond the bar?
Shaun Murawski: We're all busy enough with the bar and what limited time we have now to be worrying about much else at the minute!
My thanks to Shaun and the Super Bario team for taking the time out of running the business to chat with Warp Zoned. If you are ever in Scotland, it would be well worth taking the time to visit what will hopefully become a Glasgow institution.