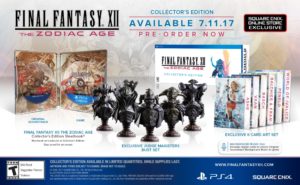 If you're at PAX East, you can swing by the Square Enix booth this weekend to try out a playable demo of Final Fantasy XII: The Zodiac Age, which will be available for the PS4 on July 11. But the publisher also used the Boston-based convention to announce a Collector's Edition for the upcoming remaster.
Priced at $199.99, and available exclusively through the Square Enix Online Store, the Collector's Edition will include several interesting bonus items:
Final Fantasy XII: The Zodiac Age Collector's Edition

Exclusive "Judge Magisters" Mini Bust Set – Featuring busts of Judges Bergan, Drace, Gabranth, Ghis, and Zargabaath
Official Soundtrack CD – Selection of soundtrack music from famed composer Hitoshi Sakimoto
Set of Six Art Cards – Featuring Vaan, Ashe, Basch, Fran & Balthier, Penelo, and World of Ivalice
Steelbook Packaging – Featuring exclusive art to the Collector's Edition
In-Game Digital Code – Unlocks the option to use the Official Soundtrack as background music
If the Collector's Edition seems a bit too pricey, don't worry, Final Fantasy XII: The Zodiac Age will also be available in a Limited Edition ($49.99) that includes an exclusive Steelbook featuring artwork by Akihiko Yoshida and the in-game digital code to unlock the background music option for the Official Soundtrack. And the first printing of the Standard Edition (also $49.99) will include reversible cover artwork by Yoshida.
Finally, fans who pre-order the Digital Edition of Final Fantasy XII: The Zodiac Age through the PlayStation Store will receive a PS4 Theme and four music tracks by Hitoshi Sakimoto.