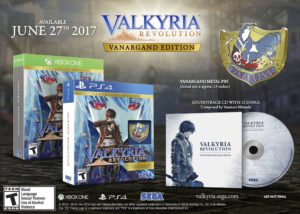 Sega announced this afternoon that Valkyria Revolution will be released for the PS4 and Xbox One on June 27. The game will also be released for the Vita on the same day, and it'll be available as a digital download exclusively through the PlayStation Store.
Fans familiar with the Valkyria franchise's turn-based gameplay will be in for a surprise with Valkyria Revolution. According to Sega, Revolution will include "new characters, a new world, and new gameplay mechanics" when it launches this Summer:
In the wake of a revolution, Jutland's elite soldiers, the Vanargand, must band together to defeat the Ruzi Empire and stop death itself–the Valkyria. This grizzled anti-Valkyria squad is equipped with advanced mana weaponry and has the powerful ability to wield ragnite spells to combat this terrifying threat. The unit is comprised of soldiers who have a high affinity for ragnite, and even Jutland's own Princess Ophelia has joined the ranks. The princess carries the utmost love for her country and has answered the call of duty to liberate those who are suffering from the Ruzi's tyranny. However, Amleth Gronkjaer, the commanding officer of Vanargand hides a terrible secret. Is he friend or foe to the country he has sworn to protect?
As part of this announcement, Sega also confirmed that Valkyria Revolution's first print run will be available in a limited "Vanargand Edition." This special edition of the game comes with a Metal Vanargand Pin and a 12-Track Soundtrack composed by Yasunori Mitsuda.
Finally, you can find a new Teaser Trailer for Valkyria Revolution after the break.