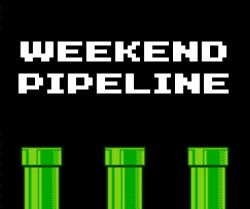 It's a good day to be a PC gamer, or a good weekend, to be more specific. The deals for PC games are massive this week, and with many of them ending soon, now is the best time to swoop in and snag all the glorious video game goodies. But that's not all that's happening this weekend. PC gamers are also being treated to exclusive free-play events, taking place over the next few days.
While PC gamers are seeing a lot of love this weekend, so are console gamers, in the form of sales, conventions, and a free-play weekend of their own. So if you haven't had the luxury of planning out your game-related activities for the weekend, here are a few suggestions to help point you in the right direction.
In-Game Events/Free Previews
Street Fighter V Capcom Fighters Network Beta Test – PC gamers can look forward to having free access to Street Fighter V this weekend, via Steam. Capcom is working to improve the game's online play modes by conducting a Capcom Fighters Network Beta Test over the next few days. Luckily, this means that players who haven't purchased Street Fighter V will have a chance to play, but in online modes only. The Capcom Fighters Network Beta Test is exclusively limited to Steam users only. The beta test started on Tuesday, March 28. However, if you haven't started playing it yet, you can do so now until Monday, April 3, at 3:59 PM (Eastern Time).
Titanfall 2 Free Trial Weekend – Console gamers also have reason to be excited this weekend. Titanfall 2 receives free DLC this week in the form of Colony Reborn on the PlayStation 4, Xbox One and PC. The Colony Reborn DLC comes with a few notable updates, such as an all new map, new weapon, new execution, and two Prime Titans, plus new designs, camos, banners, and patches. But what's most exciting is that this weekend, players who don't already own the game will have the opportunity to demo Titanfall 2, having full access to the multiplayer, plus The Training Gauntlet, and a single-player mission titled The Beacon. Even better news is that after the trial period, The Training Gauntlet and The Beacon single-player mission will remain free to play. The trial period started Thursday, March 30, and will end on Monday, April 3.
WWE 2K17 Free-Play Weekend – Xbox One owners who subscribe to Xbox Live Gold are invited to take a trip to Suplex City with this weekend's WWE 2K17 free play event. Players will have the option to play through the main game, climbing through the ranks at NXT in an attempt to eventually reach the WWE Hall of Fame. Or, players can hop into the virtual ring and compete against other digital wrestlers via the multiplayer modes. Additionally, Xbox Live Gold Members will be able to purchase WWE 2K17 at 50% off, while the event lasts. Any progress you make or Achievements you receive throughout the event will carry over, if and when you decide to purchase the game. The event ends on Tuesday, April 4, at 2:59 AM (Eastern Time).
Sales and Discounts
Bundle Stars Dollar Uber Bundle – Bundle Stars has a massive sale underway! While there's still plenty of time to take advantage of the deals, if you're looking for something to play over the weekend, then it's worth checking out. So what's so great about this sale? Well, Bundle Stars is offering up 29 games for one dollar. According to Bundle Stars, you'll save a little over $106 with this deal. The catch is that many of these games are already rather cheap on their own. However, if you're just looking for a cheap way to pass the time, then it's a pretty good deal. And given that 21 out of 29 of the games have Steam Trading Cards which can be sold via the Steam Community, you might even make your dollar back.
Best Buy Video Game Deals – Best Buy kicked off some pretty good deals last Sunday. But assuming that you haven't had a chance to take advantage of them, now is the time to do so. Best Buy is offering Xbox One bundles with Battlefield 1 for $299.99, and Xbox Wireless Elite Controllers are $50 off with the purchase of an Xbox One console. For games, Doom, Fallout 4, Grand Theft Auto V, Resident Evil 7: Biohazard, and NBA 2K17 are all marked down by $20 this week. And Dishonored 2, WWE 2K17, and Mafia III have all received $30 discounts. The Elder Scrolls V: Skyrim Special Edition Best Buy Exclusive Dragon Born Bundle, which includes a collectible Steelbook case and Dovahkiin mask, is only $39.99 this week, compared to its usual $74.99 retail price. Saturday, April 1, is the last day to snag these deals as Best Buy will issue out their new sales flyer on Sunday, April 2.
GOG Weekly Sale – If you missed out on titles such as Metro 2033 Redux or Risen 2, now is a great time to purchase those games. This week GOG has marked select titles down by 75%. Given that these are older games, they're already pretty cheap. But with prices reaching as low as 99 cents, this is a sale worth writing home about. The sale ends in three days, but luckily, GOG has posted a handy countdown timer so you can debate with yourself whether to snag these amazing deals or not.
Conventions
NashiCon (Columbia, South Carolina) – For those of you looking to spend some time outside of the house this weekend, NashiCon in South Carolina might be the event for you. NashiCon is an anime convention first and foremost, however there's plenty of other things to do. For gamers who like big crowds and competition, the video game tournaments being held throughout the weekend are worth participating in. If 64-person gaming tournaments aren't your thing, then you'll probably want to stop by the Dealer Room, where numerous video game retailers will be an attendance, selling various merchandise. And if none of the above tickles your fancy, there are tons of panels to participate in, covering everything from video game voice acting tidbits, to live retro gaming Let's Play streams. NashiCon starts Friday, March 31, and ends Sunday, April 2.
Esports Events
League of Legends Championship Series (EU) – Esports are looking a little slim this week, with some of the major competitions having already wrapped this month, and others preparing to start later this year. But if you're looking to get your esports fix, then the good news is that there's still quite a bit going on in international leagues. The League of Legends Championship Series is still underway in Europe, and six best-of-three matches will take place this weekend, starting on Friday, March 31 at 11:00 AM (Eastern Time). The last match will start at 2:00 PM on Sunday, April 2.
As For Me…
As for what I'll be doing this weekend? Well, I've got a baby with a stomach bug to care for, so I doubt that I'll be able to fit much gaming in. However if time permits, I'll likely dive back in to The Elder Scrolls Online, and Watch Dogs 2. Aside from that, I plan on purchasing Bundle Stars Dollar Uber Bundle. As usual, have a great weekend, and happy gaming!