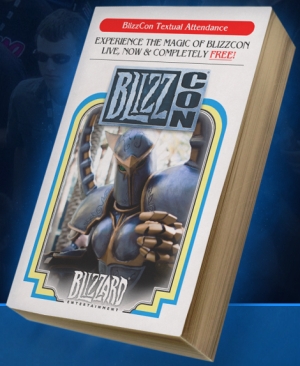 If you can't make it to BlizzCon this year, don't worry, Blizzard is offering a backup plan that promises to be just as good.
The BlizzCon Textual Adventure is now available through the convention's official website, giving non-attendees the chance to "Choose Their Own Adventure" and experience this year's BlizzCon without the hassles of a long plane ride, noisy crowds, and the latest games:
Experience BlizzCon for FREE! Exercise both your reading ability AND your perceived free will. You decide exactly how epic your BlizzCon will (or won't) be!
Blizzard definitely did their homework for this April Fool's Day gag. The first time I went through it, I was greeted by a random pair of aliens (a common occurrence in the real Choose Your Own Adventure books), and I'd assume there's at least one ending where you die horribly.
The actual BlizzCon will be held in Anaheim on November 3rd and 4th, though it seems unlikely that attendees will run into aliens or die a gruesome death. According to Blizzard, BlizzCon Tickets will go on sale soon.