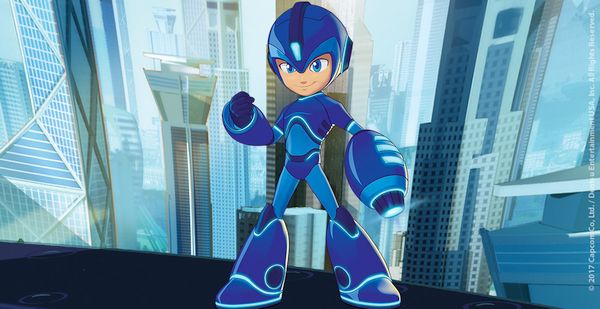 Capcom, in collaboration with DHX Media, Dentsu Entertainment, and Man of Action Entertainment, have announced that their in-development Mega Man animated series will debut on Cartoon Network in 2018.
The series will go into production this Summer, and it's designed to introduce Mega Man to a new and much younger audience. The Mega Man series appears to be in good hands, as all three companies have proven themselves in children's entertainment before. Dentsu Entertainment is responsible for localizing the popular Yo-Kai Watch series, and DHX Media has a long history of producing successful kid's shows such as Degrassi and Teletubbies. Meanwhile, Man of Action Entertainment is most famous for the creation of Ben 10 and characters from Big Hero 6.
However, Mega Man fans have already taken issue with the upcoming show, citing Mega Man's new aesthetic, and his "Aki Light" alter ego. According to DHX Media, Aki Light is a happy-go-lucky robotic child, who discovers that he has secret protocols that allow him to transform into Mega Man (basically, a robotic schoolboy version of nearly every mainstream superhero). Throughout the series, Mega Man will struggle with saving Silicon City from imposing threats, while trying to maintain his day-to-day life, and preserve his secret identity.
While this is definitely a break from the traditional Mega Man storyline, including that of the popular Mega Man cartoon from the mid 90s, it's still an interesting reboot. Given the success of the companies involved with the new show's production, this latest Mega Man cartoon is worth keeping on your radars, even if just to check it out once.