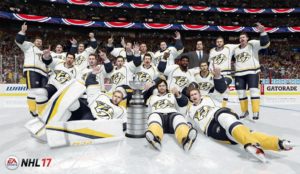 The Nashville Predators joined the NHL as an expansion team in 1998… and if NHL 17's playoff simulation is correct, they'll win their first Stanley Cup this year.
According to the prediction from EA Sports, the Predators will beat the Montreal Canadiens in seven games in the 2017 Stanley Cup Finals:
It all came down to one game. P.K. Subban and the Nashville Predators against Carey Price and the Montreal Canadiens in Game 7 of the Stanley Cup Final. It was a back-and-forth game that featured stellar saves and highlight reel goals until Viktor Arvidsson scored with 17:37 left in the third period to give the Predators a 3-2 lead. Ryan Johansen would tack on an empty net goal late in the third period securing the first Stanley Cup in Nashville Predators franchise history.
As of today, the real-life Predators have a 2-0 series lead over the Chicago Blackhawks in their first round matchup. Meanwhile, the Canadiens are leading the New York Rangers two games to one.