Interactive novels tend to get a bad reputation, but it's understandable. Because video games are such a young medium, there still remains some confusion surrounding the definition of what exactly a "video game" is. </Reality> is not one of those games that further muddies the waters by barely walking the lines of interactivity. No, </Reality> is, by far, one of the most "interactive" interactive novels that I've ever played.
</Reality> centers around a socially withdrawn young woman in her early 20s named Lilya. Lilya, a virtual reality enthusiast, is selected to beta test the Penta, a state of the art virtual reality neural device. What looks to be an exciting weekend spent traversing through the Penta's Vitalia simulation quickly turns in to something far more complex that forces Lilya to question her own perception of reality.
Platforms: PC
Publisher: Fancy Fish Games
Developer: Fancy Fish Games
Genre: Indie Interactive Novel
Release Date: April 18, 2017
ESRB Rating: Not Rated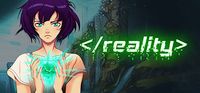 </Reality> immediately set itself apart from other games in the interactive novel genre within seconds of the opening. It's not every day that you'll see an indie game smoothly transition from colorful, hand-drawn visuals, to CG animation with the quality of something you'd expect to see in World of Warcraft. But it didn't stop there. While I was completely in awe of the CG visuals, what astounded me most in those beginning minutes, was the chat feature. The chat feature appears repeatedly throughout the course of the game. It's not fully interactive, however players will have the chance to pick a few of Lilya's responses. The presence of the chat feature makes the game feel all the more immersive, like you're really playing an MMO, or using a VR headset to shoot the breeze with your friends.
But aside from animations, </Reality> best makes its case via its narrative. Initially, </Reality> appeared to be a game about the ills of video game addiction. Our protagonist, Lilya, has retreated into the world of Free Realms, her virtual reality game of choice. In the process, she has neglected her family, dropped out of a prominent university, and all but abandoned her community college studies. Essentially, aside from her success as a top level Free Realms player, her life is in utter disarray.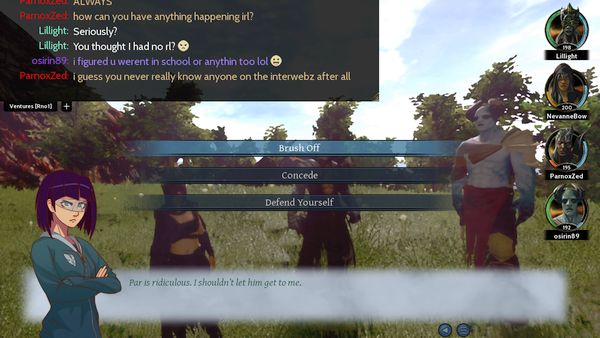 While visiting the headquarters of InterMense, the company responsible for the Penta VR device, Lilya meets Ben Evers, a fellow Free Realms player. Ben takes VR enthusiasm to new heights, when in the midst of beta testing the Penta, he refuses to log out. His actions launch a spur of events that sets the pace for the rest of the game, flipping my preconceived notions on their head.
From there, </Reality> tells an, at times, dark and suspenseful tale. The beautifully atmospheric soundtrack heightens the mood, switching from upbeat and epic, to dramatic and foreboding. And while the character dialogue often reminded me of AMC's The Walking Dead's many rambling monologues, rarely did it detract from the story and its intended message.
When faced with the game's choices, you'll feel their weight, as if the fate of worlds depends upon your actions. All the while, you'll question your reality, your priorities, and what it means to be a sovereign and sentient being.
</Reality> features a branching storyline, and relationship building which hinges upon the course of your actions. Thus far, I've only played through </Reality> once. I'm satisfied with the game, however I can't help but be curious as to how the game would have turned out had I made different decisions. I found myself rewinding the game on occasion (a neat feature for the less decisive player) out of fear that I had made the wrong choice. The fact that </Reality> sports multiple paths, storylines, and endings, makes for a highly replayable game that you'll likely revisit again, and again.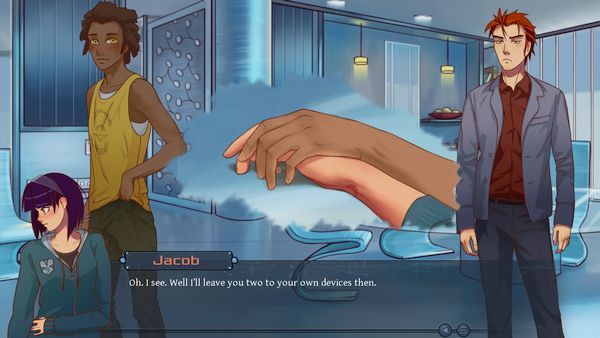 In a sea of lackluster interactive novels, </Reality> is an indie game worth playing. I spent hours fixated on my screen, clicking away at the presented choices, formulating my own theories about the meaning of the game. And like other great interactive novels such as the Danganronpa series, or 999, </Reality> is a game that you have to experience for yourself.
The incessant rambling of some of the characters occasionally breaks immersion. And despite </Reality> being very interactive, I do feel that it could have benefited from more choice options. In spite of these few shortcomings, </Reality> presents a well formulated story, that will genuinely make you care for its characters, and wish to see them excel in whatever path you choose for them. Couple this with its high replay value, beautiful graphics, original music score, and low retail price, and the game becomes all the more enticing. For a young studio such as Fancy Fish Games, </Reality> shows a ton of promise. And quite frankly, I can't wait to see what they come up with next.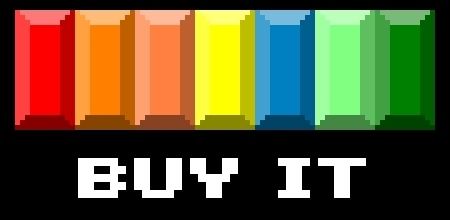 Review Disclosure: A review copy of </Reality> was provided by Fancy Fish Games for the purposes of this review.