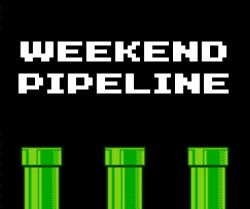 It's Friday again, which means it's time to start planning for the weekend. Sadly, this weekend is looking a little dull. Events are few and far between, and the convention pickings are rather slim. However, depending on your interests and location, there's still something to do.
Let's dive in, shall we.
In-Game Events/Free Previews
The Elder Scrolls Online Free Play Week – Leave it to Bethesda to save us from a weekend of humdrummery. Earlier this week, the publisher announced that prospective Elder Scrolls Online players would have a chance to play the Tamriel Unlimited base game completely free of charge. Additionally, players will receive 500 Crowns to spend in the Elder Scrolls Crown Store. Crowns can be used to purchase costumes, mounts, crafting motifs, and more. Players will also have the opportunity to purchase either The Elder Scrolls Online: Tamriel Unlimited or The Elder Scrolls Online: Gold Edition (which includes the base game and four DLC packs) at a discounted price. For those who choose to purchase the game, all progress, created characters, and Crowns Packs will transfer over. But beware, you've only got until Tuesday, April 18 to demo and purchase the game.
Pokemon Go Eggstravaganza – Poke Trainers will get a boost this week with Niantic's Eggstravaganza event, which began on April 13. Players will receive Double XP during the event and find a greater variety of Pokemon from Eggs. Best of all, players will get all these extras from now until Thursday, April 20.
Sales and Discounts
Green Man Gaming Easter Sale – Green Man Gaming has a great sale underway, with popular titles such as Fallout 4 and Dishonored 2 marked down by 50%. Dues Ex: Mankind Dived and Just Cause 3 have seen even greater discounts, being marked down 70% and 75% off respectively. With discounts as high as 80% off, this is one sale that you don't want to miss. And the good news is that you've got until Tuesday, April 18, to take advantage of these hefty deals!
Toy R Us Disney Infinity Sale – If you've been keeping up with the news, then you've likely heard that Disney Infinity is pretty much dead. However, if you're more of a Skylanders fan, and lack the annoying Disney-obsessed creatures we call children, then you may have missed the demise of what looked to be one of the future's hottest video game/toy combos. With the Disney Infinity servers officially shut down, and future development plans canceled, it's no wonder that retailers are rushing to rid their shelves of the cute Disney Infinity figurines. However, despite no longer being able to share your creations with players around the globe, there's still good reason to snatch up these toys while they're still available. If you're a collector, they're a piece of history worth adding to your collection. And if you're still planning on playing offline, at $2.99, now is a great time to snag some missing characters.
Conventions
Middle Tennessee Anime Convention (Nashville, Tennesse) – There aren't too many conventions being held this week. And many of the conventions that are being held aren't very gamer-friendly. However, that's not the case with Middle Tennessee Anime Convention. MTAC, as it is affectionately called by convention goers, is an anime convention that just so happens to be holding quite a few video game tournaments this weekend. So if you're looking to get out of the house and play Mario Kart 64 or Soul Calibur in a tournament setting, MTAC is for you. And while you're there, why not stop by to meet Josh Grelle, voice actor for popular games such as Borderlands 2 and Dynasty Warriors 7? MTAC will be held from Friday, April 14, to Sunday, April 16.
Sakura-Con (Seattle, Washington) – Much like the aforementioned MTAC, Sakura-Con is also an anime convention. However, video game dealers will be present in the Exhibitors halls, if you're looking to score a few hard-to-find games. Sakura-Con also boasts the largest gaming room of any west coast convention, with LAN gaming, consoles, and arcade machines. And in addition to famous anime voice actors, there will also be a few video game voice actors in attendance. So grab your copy of Danganronpa 2 and Xenoblade Chronicles, so you can get them signed by the lovely Christine Cabanos! Sakura-Con begins Friday, April 14, and ends on Sunday, April 16.
Supercon Retro (Miami, Florida) – Supercon Retro is the place to be for any nerd within the Miami area. Wrestling fans can look forward to running into Teddy Long, Alex Chamberlin, and Booker T. Orange is the New Black star Lori Petty will be in attendance, as well as Butch Patrick of The Munsters, and David Yost of the 90s Power Rangers. But aside from the star-studded attendance list, gamers will be happy to know that Supercon Retro will have a video game section, devoted to free-play and tournament events. In between meeting celebrities and participating in the various tournaments being held over the weekend, you can also sit in on one of the video game panels, such as "Kingdom Hearts 101," which delves into key plot points and theories that every Kingdom Hearts fan should know. Supercon Retro starts Friday, April 14, and ends Sunday, April 16.
Esports Events
League of Legends NA LCS Playoffs – Another weekend, another round of League of Legends Championship Series Playoffs. Saturday, April 15, at 2:00 PM, Cloud9 goes up against Phoenix1 in a best-of-five match. The following day, Sunday, April 16, at 2:00 PM, TSM will take on FlyQuest in a best-of-five match. The matches taking place this weekend are extremely important, as they will determine who ends up in the Finals two weeks from now. Sadly, if you want to go see this weekends event live and in person, you're out of luck. However, tickets to the finals are still on sale, so you better grab them while you can.
As For Me…
As for me? Well, I'll be sporting a sprained foot this weekend. So, I'll be indoors for the most part. On the bright side, I finally found my PlayStation Vita, which means squeezing in as much Persona 4 Golden as possible. However, in all honesty, it's not very likely that I'll get much gaming in. I've got a review to write, other articles to work on, and a web development project to start researching. In other words, I'll be working for the majority of the weekend. Anyway, per usual, have a great weekend and happy gaming!