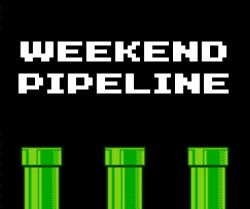 Easter has come and gone, and with its exit marks the end of all the glorious Spring sales that we've previously enjoyed. Despite this weekend's slim pickings, there are still a few things to get excited about. A few esports competitions are coming to a close (while others are just starting), and for whatever reason, retro games are in this weekend. So if you're looking to enjoy some classic gaming, engage in the brutal bloodsport that is war from the comforts of your couch, or venture out into the pollen-filled air in search of cheap fun, then we've got a few things that you might want to work in to your schedule.
In-Game Events/Free Previews
StarCraft and StarCraft: Brood War – In case you haven't heard the good news, as of this week, StarCraft and its expansion, StarCraft: Brood War are now free-to-play! All of this is in celebration of the upcoming release of StarCraft Remastered, an updated take on the classic RTS from 1998. Despite being nearly 20 years old, StarCraft is still going strong. So if you're looking to dive in to this old classic for the first time, or simply want to get yourself hyped up for StarCraft Remastered, now is the perfect time to jump in to some sci-fi fun.
Sales and Discounts
Total War Sale at Bundle Stars – Prepare to be totally amazed by this incredible Total War sale! Bundle Stars is at it again with a massive Total War sale, discounting various games in the franchise by as much as 76% off. Base games have been marked down as low as $4.99 and select DLC prices have dipped to an amazingly low $0.79. If your Total War collection is lacking, then you'll definitely want to get in on this great deal while you still can.
Play-Asia Weekly Special – Fans of games that hail from the Land of the Rising Sun will be happy to hear that Play-Asia has a neat sale underway, featuring some of those hard-to-come-by games. Xbox owners won't find anything worthwhile in this sale, however, PlayStation 4 and PlayStation Vita owners can pick from a handful of great games. And if you haven't chucked your PlayStation 3 yet, there's even something in there for you.
Conventions
JAMPcon (Chattanooga, Tennessee) – If you're near Chattanooga, Tennessee, then you'll probably be glad to hear about this weekend's JAMPcon convention. JAMPcon puts a pretty heft focus on tabletop gaming, such as Pokemon TCG, and Yu-Gi-Oh. However, if you're looking for something more video game-centric, JAMPcon will also be hosting a number of video game tournaments, with one even focused on retro video games. There will also be a freeplay video game room, with arcade machines, classic consoles, and modern video games. And if that doesn't entice you, video game and anime voice actor, Dan Green will be in attendance. So bring those copies of PlayStation All-Stars Battle Royale, and Kirby's Epic Yarn for a chance to get them signed!
NRVcon (Blacksburg, Virginia) – NRVcon is one of the smaller gaming conventions, that much can be gathered just by visiting their website. Their website also doesn't really go in to much detail about what to expect, but there will be a host of video game retailers, and fan art dealers in attendance. So, at the very least, you'll probably be able to snag a hard-to-find game while you're there. As a result of NRVcon being a small convention, admission is extremely cheap. Passes are $5, and children eight-years-old and under get in free.
Esports Events
Hearthstone National Championship – As part of the Tespa Competitive Series, the Hearthstone National Championship will continue this weekend. Competing players who've managed to last this long will qualify for scholarship funding, with first place winners netting $10,000 per person in scholarships. Even low placing competitors have a chance to walk away with at least $400 in scholarships. The tournament officially comes to an end on April 30, so you'll probably want to tune in to watch these final matches unfold. Matches will take place at 12:00 PM (Eastern Time) on both Saturday, April 22, and Sunday, April 23.
League of Legends Championship Series – League of Legends playoffs are still underway this weekend. Saturday, April 22, at 3:00 PM (Eastern Time), Phoenix1 will face off in a best of 5 challenge against FlyQuest. On Sunday, April 23, at 3:00 PM (Eastern Time), Cloud9, who bested Phoenix1 last weekend, will compete in a series of best-of-five matches against TSM who was victorious over FlyQuest in last weekend's competition. Seeing as these are the finals, you're not going to want to miss these.
Call of Duty World League Global Pro League – Activision and Major League Gaming will launch the first-ever Call of Duty World League Global Pro League today, April 21, at 4:00 PM (Eastern Time). 16 teams will clash in Stage 1, and help determine the seeding in this Summer's Call of Duty World League Championship.
As For Me…
My parents are coming to visit this weekend, so I'll likely spend my time keeping them entertained. In between chastising my mom for knowing all of the lyrics to the latest rap songs, and trying to find suitable meals to prep for my picky dad, I'll try to fit in some spring cleaning and time to level up my Persona's in Persona 4 Golden. And if I can persuade myself to make the purchase, I'll also order Akiba's Trip in preparation for the release of Akiba's Beat.