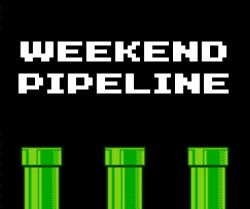 As we enter the final days of April, we can look forward to spending more time outdoors at conventions, and taking advantage of the inevitable seasonally themed sales, in preparation for the infamous Summer gaming drought.
But in the meantime, let's enjoy what Spring has to offer, and start stocking up for those extremely sweltering days, best spent indoors with the AC on full blast, and a controller in hand.
In-Game Events/Free Previews
Minion Masters: Forced to Duel Early Access – Alienware Arena is giving away free Minion Masters: Forced to Duel Early Access Steam keys to a select number of prospective players. Minion Masters challenges players to collect various minions, and engage in real-time battles with players from across the globe. In addition to the Minion Masters Early Access key, Alienware Arena is also offering the Minion Masters Cemetery Power Pack, which allows players to transform the arena into a cemetery, and redeem three Power Tokens, which will provide players with a new minion, spell, or building.
Prey: Opening Hour Demo – Bethesda is giving fans the chance to sample a full hour of Prey before it launches next week on May 5. The Opening Hour Demo is now available to download for the PS4 and Xbox One, and publisher promises that "you can check out the first hour – or more, depending on how you play – of Morgan Yu's first day on the job. (Spoiler: It doesn't go too well.)"
Sales and Discounts
F.E.A.R. Bundle at Bundle Stars – If you're looking for a creepy way to spend your weekend, Bundle Stars has just the thing for you. If you haven't played any of the F.E.A.R. games, or if you simply missed out on one of the games in the series, Bundle Stars is offering F.E.A.R. 1, 2, and 3 for only $4.99. That's an amazing 91% off! In addition to the base games, all DLC is included in the package. So if you've been on the fence about trying out this disturbingly frightening series, now you can do so without putting much strain on your wallet.
EU PlayStation Store Sale – For those of us living abroad, the EU PlayStation Store has a massive sale going on, with discounts reaching as high as 60% off. Titles such as Rocket League: Game of the Year Edition, Diablo III, Street Fighter V, and Plants Vs Zombies: Garden Warfare 2 have all received hefty price cuts. If any of these titles are missing from your digital collection, you might want to act now and purchase them while the price is right.
Best Buy PC Sale – Best Buy always has a sale going on, that's no secret. But what has my interest this weekend is the drastic increase in marked down PC products and accessories. From HD monitors, to gaming mouse pads and PC power supplies, a bit of everything is on sale this weekend. In addition to PC parts, a few Amiibo figures have seen noticeable price drops, some reaching as low as $4.99. Select gaming laptops have received $100 discounts. And Gears of War 4 digital copies are now only $29.99. But remember, Best Buy deals usually cycle out on Sunday morning, so you'll want to make any of your purchases before then, just to be on the safe side.
Conventions
OzCon (West Plains, Missouri) – There's not much going on stateside as far as conventions are concerned. However, if you're in the West Plains, Missouri area, or are up for traveling this weekend, then OzCon is worth checking out. OzCon is an anime and gaming convention, hosted by the Missouri State University Computer Graphics and Programming department. Admission is a little pricey, but far more reasonable than what you'd expect to pay at a major convention. Chris Ragger, voice of Mr. Tongue in Borderlands 2: Game of the Year edition, will be in attendance. For those more interested in playing video games, there will be freeplay video game events hosted throughout the weekend. However, they will be time and console restricted. Over the duration of OzCon, multiple video game tournaments will take place, including competitions for Mortal Kombat, Super Smash Bros. Brawl, and Guitar Hero. OzCon begins at 1:00 PM, Friday, April 28 and ends at 7:00 PM, Sunday, April 30.
Yoi Con (Columbus, Ohio) – Yoi Con centers around the celebration of cosplay, anime, and video games. Over the weekend, various video game tournaments will be held in the game room at designated times. And for those of you who rather not play in a tournament, the video game room will be open for freeplay as well. Derek Stephen Prince, the voice of Vexen from Kingdom Hearts, will be in attendance and will host three panels about voice acting. Lucky attendees will have the opportunity to win a one-on-one session with Mr. Prince. Yoi Con begins at 10:00 AM, Friday, April 28 and ends at 4:50 PM, Sunday, April 30.
Esports Events
Overwatch Pacific Championship – The Overwatch Pacific Championship is in full swing, with ten more weeks to go. The Esports league was created by Blizzard and based in Taiwan, and competitors will face off in a series of best of five matches, in an attempt to secure the NTD$3 million (around $100,000 in US dollars) cash prize. If you've missed the first three weeks, you can catch them over the weekend on Full Circle Esports Twitch channel, responsible for bringing the Overwatch Pacific Championship to English language speakers.
As For Me…
After misplacing and then finding my PlayStation Vita for the umpteenth time this week, I've committed to simply keeping it in either one of two places, my bedside nightstand, or my office desk. So, I'll likely keep attempting to finish Persona 4 Golden, so that I can finally make the switch to Persona 5. My father-in-law is also coming for a visit for the next few weeks, which means that aside from handheld gaming, I probably won't get much play time in. Aside from that, I'll be playing Pokemon Go on my new phone and making up excuses to visit McDonald's for their new Super Mario toys. Have a great weekend, and happy gaming!