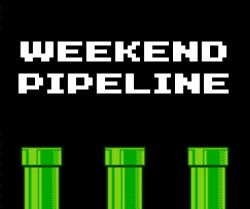 It's Friday again, which means I'm back to give you the rundown on what's what this weekend. The convention scene is looking rather hefty this weekend, with multiple conventions taking place across the nation, and offering activities for everyone. Whether you're a furry fan looking for like-minded individuals in a safe setting, or a parent on a budget in search of wholesome family fun, there's a convention for everyone!
We've also got some sweet deals for you this week, a few esports events worth checking out, and a couple of demos/betas that are really worth looking into. So if you haven't made weekend plans just yet, now is the perfect time to do so.
In-Game Events/Free Previews
Dishonored 2 Free Trial – If you have yet to play Dishonored 2, then I've got good news for you. On Thursday, April 6, Bethesda launched a Dishonored 2 Free Trial for the PlayStation 4, Xbox One, and PC. The Free Trial allows players to try out the first three missions, and they can step back into the shoes of Royal Protector Corvo Attano, or play as Empress Emily Kaldwin. If you choose to purchase the full game, all of your save files will transfer over, allowing you to pick up where you left off. So far there's no word as to when the free trial will end, so to be on the safe side, you might want to give the game a try sooner than later.
Quake Champions Closed Beta – Staying within the realm of Bethesda, Quake Champions launched its Closed Beta yesterday, April 6. If you've already been accepted to the Closed Beta, then it's probably safe to assume that you'll be spending your weekend running and gunning in the Arena. However, if you haven't already signed up for the online test, you should do so while there's still a chance. Bethesda reps say that more players will be added to the Closed Beta over time, so signing up now is important. In the meantime, keep an eye on your emails so that you don't miss an invite.
Master X Master Closed Beta – Players looking for a unique take on the MMO genre should consider signing up for the Master X Master Closed Beta this weekend. The Closed Beta started Thursday, April 6, but will continue until Thursday, April 27. MXM is described as an MMO hybrid, mixing PvP and PvE elements, and throwing in a "recreational mode" of arcade style minigames. MXM is only available for PC players, and has been met with mixed reviews, but considering that access is free, and the game is still in its beta phase, it might be worth playing around with over the next few weekends.
Sales and Discounts
Newegg Video Game Deals – Newegg has a few video games on sale at the moment, with the prices dropping by as much as 75%. Tom Clancy's Rainbow Six: Siege, Far Cry Primal, Tom Clancy's The Division, Has-Been Heroes, and Lego City Undercover have all received temporary price cuts. But beware… these deals end Monday, April 10.
WinGameStore Massive Sale – WinGameStore has a great sale underway, with many of the games also marked down by 75%. Perhaps one of the greatest things about this sale is the amount of Telltale Games offerings. If you're really dedicated, you can finish most of Telltale Games video games in a weekend, and still have time left to spare. So if you've been eyeing The Walking Dead: Michonne, or want to play one of Telltale's earlier productions, then this is the sale for you.
GOG Weekly Sale – Once again, we're taking a look at GOG's Weekly Sale. This week the pickings are a bit slim, and the deals aren't quite as steep. Games like Psychonauts, Her Story, Hotline Miami, and Tomb Raider's 1-3, have all received a 67% price cut. So while you're not presented the option to purchase any recent releases, these are quality games, some of which have cemented their place in history. And even better, they're available at a great price.
GamersGate Sales – With Spring comes Spring Cleaning, and GamersGate is cleaning out their inventory with an amazing Spring Sale. We're talking games as low as 30 cents! Some of these games are low quality… like, cluttered PC sales shelf at Target low quality… but they're also plenty cheap. Despite this, there are plenty of gems scattered amongst the junk. Games such as Still Life, The Binding of Isaac, and Beyond Good & Evil, are all priced at points that are much lower than what they're actually worth. And if you're up for spending a little more, recent releases like The Banner Saga 2 and For Honor are also up for grabs.
Conventions
Anime Matsuri (Houston, Texas) – It's a great weekend for convention goers, with a little something for everyone. Anime Matsuri caters to the anime and Japanese culture enthusiast, with music, cosplay contests, and even autograph signings. For gamers who also love anime, there will be panels on video game development, a console tournament, and even a Super Mario-themed dance party. If that doesn't get you interested, then maybe the opportunity to get your HyperDimension Neptunia and Sword Art Online games signed by famous anime and video game voice actor Christine Cabanos will entice you. Anime Matsuri starts Friday, April 7, and ends Sunday, April 9.
CyPhaCon (Lake Charles, Louisiana) – CyPhaCon boasts itself as the biggest gaming event in Southwest Louisiana. CyPhaCon also sports one of the biggest video game floors of any Louisiana convention. If you're looking to get out of the house this weekend, but still want to enjoy your video game hobby, CyPhaCon is the place to be. CyPhaCon's sponsor, Scion eSports will be in attendance hosting Overwatch, Halo 5: Guardians, Heroes of the Storm, Rocket League, and Super Smash Bros. tournaments. One of CyPhaCon's other sponsors, Southern Technologies, will provide consoles ranging as far back as the Atari 2600 for the retro gaming section. And MechCorps Entertainment will provide players with the chance to experience piloting their own mechsuit via simulation pods. Honestly, there's so much to do at CyPhaCon that it would take an entire article to highlight it all. From kids events, to Pokemon tournaments, CyPhaCon is offering up fun for your entire gaming family! CyPhaCon starts Friday, April 7, and ends Sunday, April 9.
Sabaku Con (Albuquerque, New Mexico) – Sabaku Con is an anime convention before anything else, however, as is the case with many anime conventions, there are still a few fun things for a gamer to do. Sabaku Con will have a Pokemon Slumber Party and 3DS tournament. There will be panels on game development bugs and dating game simulators. There will also be a Family Feud-style League of Legends trivia contest. But if you're simply interested in playing a few games in an arcade-style setting, attendees can visit the game room and participate in one of the tournaments taking place throughout the weekend. Sabaku Con starts Friday, April 7, at 12:00 PM and ends on Sunday, April 9 at 6:00 PM.
Motor City Furry Convention (Novi, Michigan) – Probably one of the most interesting conventions on this list, and definitely not for the whole family, is Motor City Furry Con. So what is Motor City Furry Con? It's a convention that caters to members of the Furry community, i.e. anthropomorphics fanatics. In order to attend this convention you have to be at least 18 years of age, which I suspect has a lot to do with the adult nature of some of the panels and activities. For the average gamer, the most alluring thing to do at this convention will probably consist of visiting the game room, the dealers room, and sitting in on an hour long panel about building arcade machines. However, if you're a furry gamer, you'll feel right at home. Motor City Furry Convention started on Thursday, April 6, and will end at midnight on Monday, April 10.
Cecil Con (North East, Maryland) – Last but not least is Cecil Con in North East, Maryland. Cecil Con is by far the cheapest and most family-friendly convention that you could possibly attend this weekend. Admission is only $3. But for kids under the age of 10, adults over 55, and Cecil College students, admission is completely free! Gamers attending Cecil Con can look forward to checking out 8Bit Fusion and Pixel Perfect, two vendors who specialize in the creation of unique video game merchandise. If playing video games is more to your liking, then you'll definitely want to visit the video game center. In the video game center, attendees can play with others at the free-play stations, try out showcased games and speak to their developers, or check out games developed by actual Cecil College students. And if you're looking for competition, you can sign up for the Nidhogg, Super Smash Bros. Melee, Street Fighter V, and Rocket League tournaments. Cecil Con is a one day event on Saturday, April 8, from 10:00 AM – 4:00 PM.
Esports Events
Paladins Masters LAN Finals – If you're planning on staying indoors this weekend and catching up on some esports, the Paladins Masters LAN Finals should be on your radar. The interesting thing about Paladins: Champions of the Realm is that, technically it's not a finished game. Despite still being in its beta phase, Paladins already has a healthy eSports scene, one that will likely grow as the game achieves more popularity. You can watch the participants duke it out for a chance at winning part of the $75,000 prize pool starting Friday, April 7, at 11:00 AM (Eastern Time).
European Rocket League Tournament – If you're interested in watching something more mainstream, the European Rocket League Tournament draws to a close this weekend. Not all matches for this tournament will be streamed, and times are subject to change, so do keep that in mind. However, all tournament draws will be streamed, and you can head over to their Twitch channel now to catch up on what you might have missed.
As For Me…
As for me, I'll be out of town this weekend visiting relatives, and taking a trip to the National Mall. If I get any down time, the only gaming I'll be doing is with Candy Crush and Pokemon TCG Online. As usual, have a great weekend and happy gaming!